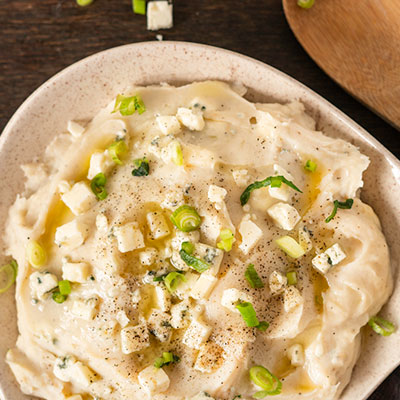 From Dolly C. at Woodstock!
Ingredients
5 arge unpeeled Yukon Gold potatoes cut in 1.5" pieces

1 celery root peeled

1/4 stick of butter for frying

4 medium shallots diced

1/3 pound blue cheese, such as Rogue blue or Gorgonzola

2 tablespoons butter

1/3 cup milk
Directions
In a saucepan, melt butter, add shallots and cook until caramelized, about 8-10 min.

Cook vegetables in saucepan of boiling salted water until tender, about 20 minutes.

Drain and transfer to heavy-duty mixer fitted with whisk attachment.

Beat potatoes and celery root until mashed.

Add cheese, shallots and butter; beat until butter melts.

Mix in milk & season with salt and pepper.
Tags