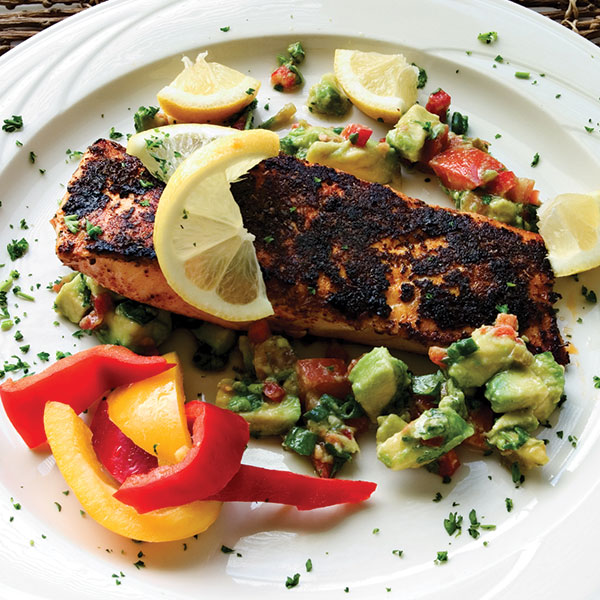 Enjoy backyard cooking at its finest with this grilled blackened salmon recipe. Keeping the skin on the fillet helps trap moisture and prevents the salmon from sticking to the grill, and the bold seasoning highlights the richness of the flaky fish. Serves 4.
Ingredients
Blackening Spice Mix:
2 tablespoons sweet paprika

2 tablespoons kosher salt

2 teaspoons onion powder

2 teaspoons garlic powder

2 teaspoons cayenne

1 1/2 teaspoon white pepper

2 teaspoons black pepper

1 teaspoon dried thyme leaves

1 teaspoon dried oregano leaves
Fillet:
1 1/2 pounds salmon fillet, skin on, bones removed

1 tablespoon blackening spice

1 tablespoon olive oil

Fresh lemon for garnish
Directions
Combine ingredients for Blackening Spice Mix. Store unused portion in a sealable jar for another use.

Preheat grill to high heat for 15 minutes and then adjust to medium heat.

Combine 1 tablespoon of olive oil and 1 tablespoon of Blackening Spice to make a paste. Slather the spice paste onto the salmon.

Place the salmon on the grill skin-side down and cook for 7-10 minutes.

Flip and continue cooking for an additional 5 minutes or until the fish is cooked through. The internal temperature of the fillet should reach 145°F.

Serve with a lemon wedge.