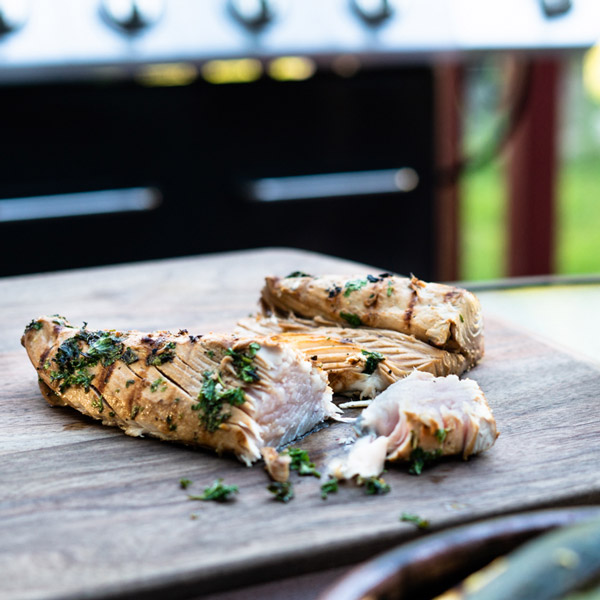 Ingredients
PEPPER CREAM SAUCE:
2 tablespoons butter

1 shallot minced

1 tablespoon fresh cracked black pepper

3/4 cup dry white wine

1 cup heavy cream

1 tablespoon Dijon mustard

2 tablespoons fresh tarragon (plus extra for garnish) chopped

1 teaspoon lemon juice

Kosher salt
ALBACORE:
2 trimmed albacore tuna loins, 3/4 to 1 lb

salt and pepper

olive oil

4 lemon wedges
Directions
In a saucepan, melt butter over medium heat. Stir in shallot and pepper, and sauté until lightly browned. Reduce by half, then stir in cream and mustard and simmer until sauce is reduced to approximately 1 cup. Stir in fresh chopped tarragon, lemon juice, and salt to taste. Set aside.

Brush tuna loins with olive oil and season all sides with salt and pepper. Heat grill to high heat. Arrange tuna loins directly on the grill grate, and cook about 3 minutes per side or until fully cooked.

Transfer loins to cutting board and slice to 1" thick medallions. Serve with sauce spooned over top, and garnish with fresh tarragon and lemon wedges.