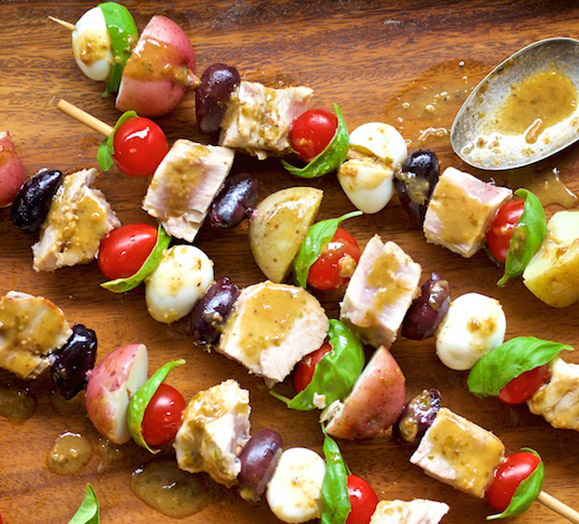 Let the fish marinate at room temperature for 30 minutes (any longer and you might cross into ceviche territory), then sear it in a hot pan for just a minute or two per side. If you're not planning a party or picnic, feel free to skip the skewers and just serve everything on a plate.
Ingredients
LEMON-ANCHOVY VINAIGRETTE:
2 large lemons, zested and juiced

1/2 cup fresh basil

4 anchovies

3 garlic cloves

pinch salt

1/2 teaspoon reshly ground black pepper

2/3 cup olive oil, plus more for cooking the fish
SALAD:
1 pound fresh pacific albacore tuna (if loins, cut into 1-inch-thick steaks)

1 pound baby red or gold potatoes (about 8)

1/4 cup white wine

2 dozen quail eggs

1 pint grape tomatoes

1 cup pitted Niçoise olives

1 cup fresh basil leaves, torn if large
Directions
To make the vinaigrette: In a food processor or blender, puree the lemon zest and juice, basil, anchovies, garlic, salt and pepper. With the machine running, drizzle in the olive oil until blended.

To make the salad: Place the tuna in a wide shallow baking dish and pour the vinaigrette over it. Allow to marinate at room temperature for 30 minutes, turning occasionally.

Meanwhile, place the potatoes in a pot, cover with water by about an inch, salt it well and bring to a boil. Cook until just tender when pierced with a sharp knife, about 8 to 10 minutes after the water starts boiling. Remove potatoes with a slotted spoon and set aside. When cool enough to handle but still hot, cut in half and place in a bowl. Sprinkle with the white wine (the potatoes will soak up some of the wine and be extra flavorful. If you don't want to use wine, use chicken or vegetable broth).

Place the quail eggs in the hot water and boil for 4 minutes. Remove and place in cold water until cool. Carefully peel off the shells (you only need 16, but it's good to have extras just in case).

When ready to cook the fish, heat a sauté pan over medium-high heat. When hot, add about 1 tablespoon of oil and the marinated fish (do not discard the marinade). Allow to sear until golden brown, about 1 to 2 minutes. Turn over and sear the other side for 1 to 2 minutes more (or until fully cooked). Transfer to a plate. Pour the marinade into the hot pan and simmer, stirring to scrape up and browned bits. Pour into a bowl and set aside.

To assemble: Cut the seared tuna into 11/2-inch chunks. Thread each 12-inch skewer in the following order for maximum prettiness: basil leaf, tomato, tuna, olive, potato, basil leaf, tomato, tuna, olive, egg, basil leaf, tomato, tuna, olive, potato, basil leaf and quail egg. Arrange skewers on a platter and brush or drizzle with the simmered vinaigrette before serving.