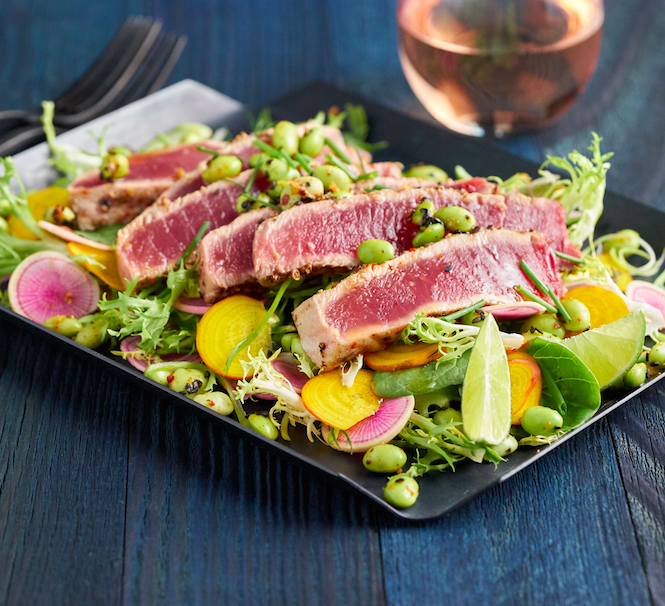 Ingredients
INGREDIENTS:
1 tablespoon soy sauce

1 1/2 teaspoon red wine vinegar

1 teaspoon honey

1/2 teaspoon Dijon mustard

1/2 teaspoon toasted sesame oil

1 teaspoon white sesame seeds lightly toasted

1 clove garlic peeled

1 2-inch piece ginger peeled

5 tablespoons coarsely ground black pepper, plus more

3/4 cup olive oil

8 ounces tuna steak, preferably sushi grade

1 tablespoon coarse salt, plus more

8 ounces sugar snap peas, strings discarded, cut crosswise into 1" pieces

1/4 cup roughly chopped mint

1 teaspoon black sesame seeds lightly toasted

2 watermelon or 6 large regular red radishes halved
Directions
Purée soy sauce, vinegar, honey, mustard, sesame oil, 1/2 tsp. of the white sesame seeds, garlic, ginger, and 1 1/2 tbsp. of pepper in a blender until smooth. With the motor running, drizzle in 1/2 cup of the olive oil until dressing is emulsified; set aside.

Heat remaining oil in a large skillet over medium-high heat. Season tuna with remaining pepper and salt; cook, flipping once, until fully cooked. Let cool, then cut into 1/2" pieces and transfer to a bowl. Add reserved dressing, snap peas, mint, remaining white and black sesame seeds, radishes, salt, and pepper.

Toss gently to combine and let sit 30 minutes before serving.
Tags