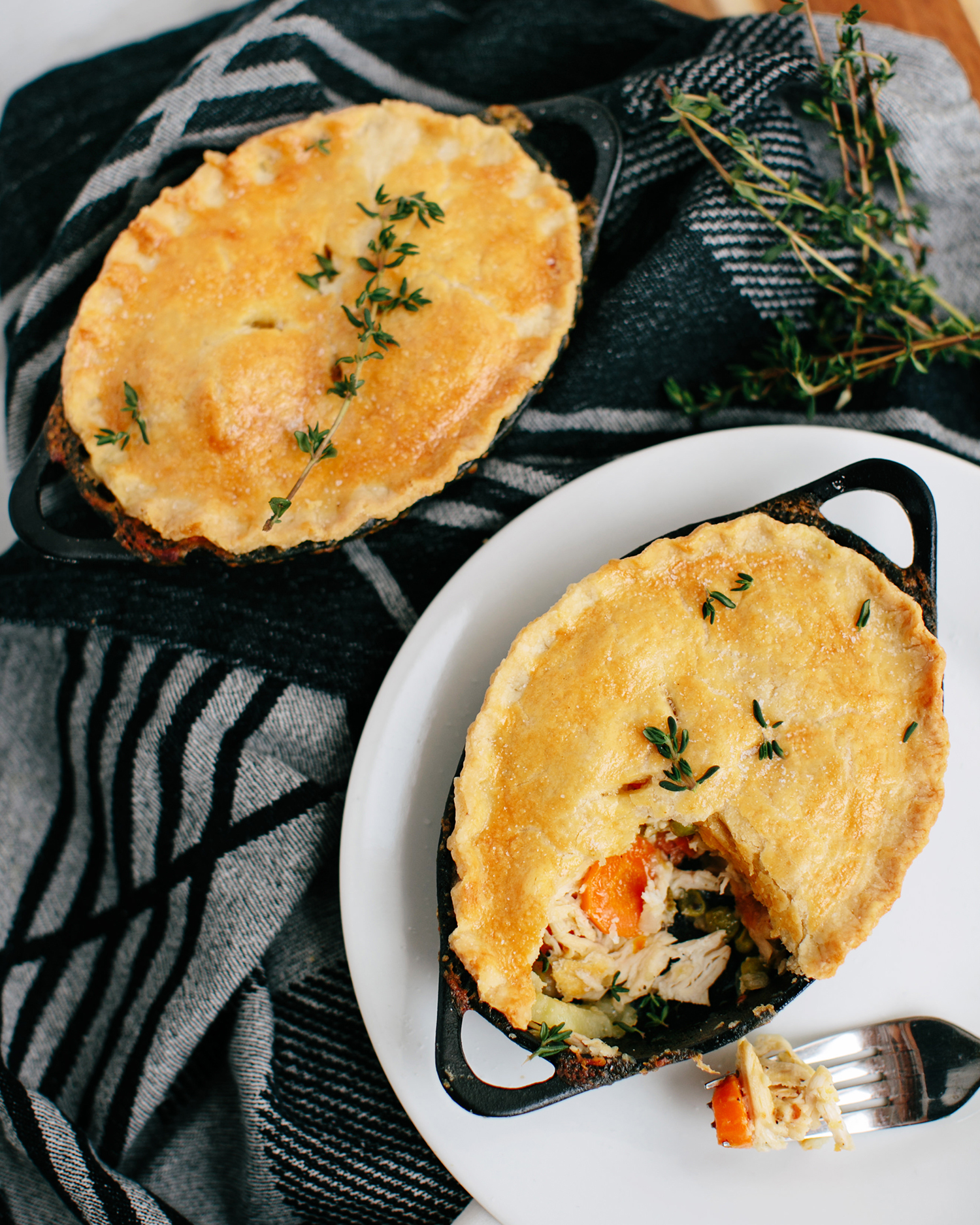 Satisfy your cravings with a rich rotisserie chicken pot pie, brimming with veggies, creamy sauce, and flaky pie crust. Enjoy every savory bite!
Serving Size

6

Cook Time

45 minutes - 1 hour

Total Time

1 hour 30 minutes
Ingredients
1 frozen pie crusts, thawed per manufacturer's instructions

6 tablespoons butter, divided

1/3 cup finely diced yellow onion

2 cloves garlic

2 carrots, rinsed, peeled, and sliced in half moons

2 stalks celery, rinsed and sliced

1 cup Yukon gold potatoes, rinsed, peeled, and ¼ diced (about 2-3 potatoes)

1/3 cup all-purpose flour

1 3/4 cups chicken stock

1/2 cup heavy cream

1 tablespoon fresh thyme leaves, rinsed and chopped

1/4 cup flat leaf parsley, rinsed and chopped

2 1/2 cups chopped rotisserie chicken

1 cup frozen peas

1 egg, beaten

Salt and pepper
Directions
Preheat the oven to 350°F.

Gently heat the chicken stock in the microwave or on the stovetop.

Heat 1 tablespoon of butter over medium heat in a large skillet and add onions and 1 teaspoon of salt. Sauté for 4-5 minutes or until tender.

Add garlic, carrots, celery, and potatoes and sauté until tender, about 10 minutes. Season with salt and pepper. Remove vegetables from the pan and set aside.

Lower heat to medium and melt 5 tablespoons of butter in the same pan. Whisk in flour until well combined. Gradually add the warm chicken stock and whisk until smooth. Slowly add the heavy cream, whisking constantly while adding. Whisk until the sauce is smooth. Add thyme and parsley and season to taste with salt and pepper.

Simmer sauce over low heat for 10 minutes.

Gently stir in the vegetables, chicken, and frozen peas. Remove pan from heat.

Place one pie crust on a baking sheet. Place in the middle of the oven and bake for 10 minutes. Remove from oven and let cool for a few minutes.

Pour filling into the par-baked crust and brush egg wash along the edges.

Place the top crust on and crimp the edges together with a fork to seal the pie. Using a sharp knife, cut a few slits in the middle of the pie to let steam escape. Use the remainder of the egg wash to brush the top of the pie crust.

Place in the middle of the oven and bake for 45 minutes to one hour or until crust is golden brown.

Let cool for a bit before serving as it will be extremely hot!