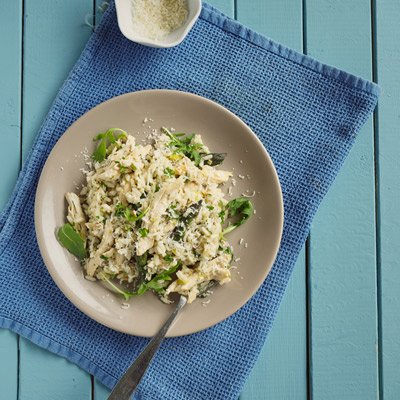 Ingredients
3 tablespoons butter

1 cup sweet onion minced

2 cloves garlic, pressed

1 cup Arborio rice (short-grain)

1/4 cups dry white wine

4 cups chicken broth

14 ounces canned artichokes, drained

3 cups roasted chicken, chopped

2 medium zucchini, chopped

1/2 cup Parmesan cheese, grated

1/4 cup fresh parsley, chopped

1 teaspoon lemon zest

to taste salt and pepper
Directions
Preheat oven to 425° F.

Melt butter in a Dutch oven over medium-high heat. Add onion and garlic, and sauté 5 for about minutes. Add rice, and cook 2 minutes, until golden. Add wine, and cook a few minutes until wine is absorbed. Add chicken broth.

Bring to a boil, cover, and transfer to oven. Bake 20 minutes.

Chop artichokes, if not pre-chopped. Remove rice from oven, and stir in artichokes, cooked chicken, and zucchini. Cover and bake 10 minutes. Remove from oven, and let stand 5 minutes. Stir in cheese, parsley, and lemon zest. Season with salt and pepper to taste.