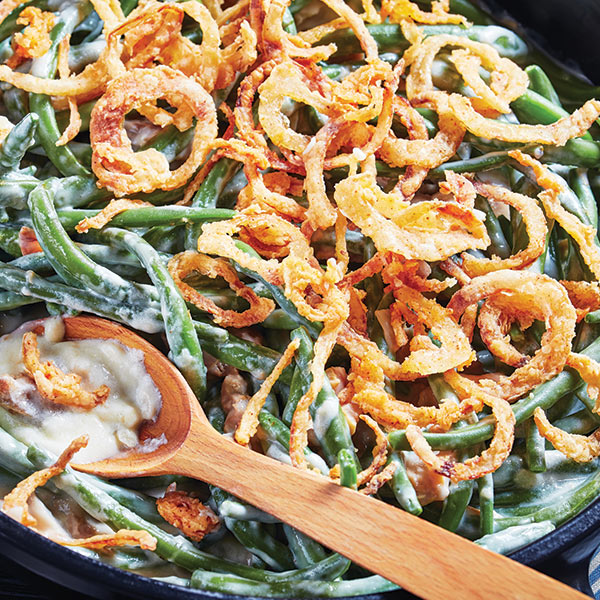 Ingredients
2 tablespoons and 1 teaspoon Kosher salt

1 pound fresh green beans, rinsed, trimmed and cut into thirds

2 tablespoons unsalted butter

12 ounces Cremini mushrooms sliced

1/2 teaspoon fresh ground black pepper

2 cloves garlic minced

1/4 teaspoon fresh ground nutmeg

2 tablespoons all-purpose flour

1 cup chicken broth

1 cup half and half

1 1/4 cup crispy onions, divided
Directions
Bring a gallon of water and 2 tablespoons of salt to a boil in an 8-quart saucepan. Add the beans and blanch for 5 minutes.

While beans are cooking, ready a large bowl full ice and water. Drain beans and plunge into the ice bath to stop the cooking.

Drain and set aside.

Melt butter in a 12-inch cast iron skillet over medium-high heat. Add the mushrooms, 1 teaspoon salt and pepper and cook, stirring occasionally, until the mushrooms begin to release some of their liquid, approximately 4 to 5 minutes. Add garlic and nutmeg and continue to cook for 2 minutes. Sprinkle the flour over the mixture, cook 1 minute then add broth and simmer for 1-2 minutes. Decrease heat to medium-low and add the half and half. Cook until the mixture thickens, stirring occasionally, for approximately 6 to 8 minutes.

Remove from heat and stir in ½ cup of the onions and the green beans.

Sprinkle the remaining onions over the top. Place in the oven preheated to 400°and bake until bubbly- about 15 minutes.

Make Ahead: If you are making this dish ahead of time, follow instructions thru step 5. Transfer to a 9" x 9" baking dish, let cool a bit, then cover and refrigerate for up to 2 days. When ready to bake, remove cover, sprinkle with the remaining onions and place in an oven preheated to 350° for 20 minutes or until bubbly and heated through.
Tags