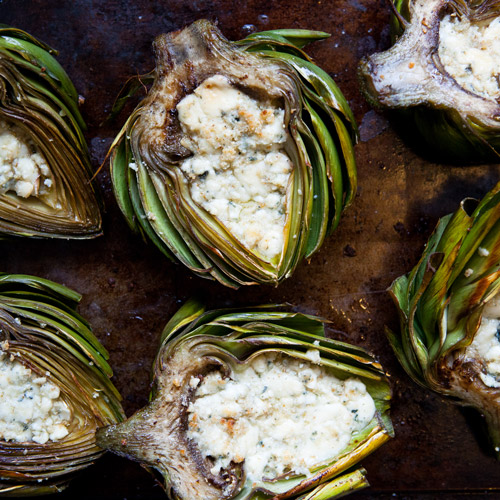 Ingredients
3 large artichokes

4 ounces blue cheese (room temp)

2 tablespoons cream cheese (room temp)

3 tablespoons fine breadcrumbs or almond flour

2 tablespoons olive oil

2 tablespoons butter

to taste salt
Directions
Carefully clean the artichoke stems with a sharp paring knife by scraping away the outer fibrous layer. Slice the artichokes lengthwise down the middle, then cut out the fuzzy choke, being careful not to cut away any of the heart. Use a teaspoon to help scoop out the choke (you want a small, clean cavity just above the heart.) With scissors, cut off all the spines but do not peel away any of the tough outer leaves.

Blanch the artichokes 'face down' in low-boiling water for about 5 minutes, then transfer them to a clean towel to dry completely.

In a grill-style grooved pan, melt the butter and add the olive oil, and brush the fats around to cover the grill thoroughly. When the pan is very hot, grill the artichokes face down for 3-5 minutes or until they are golden. Transfer them to a plate and lightly salt. Gather the fats and juices from the grill pan in a small bowl.

While the artichokes are cooling, prepare the stuffing. Blend the cheeses together with a fork. Add 2 tablespoons of the bread crumbs and combine.

Set the oven to grill function at 400° F. Line a baking sheet with parchment. When the artichokes are cool enough to handle, stuff the cavity of each artichoke half with the cheese mixture. You can make a small mound, and also stuff some into the crevices of the now-soft leaves of the artichoke. Brush some of the melted butter/oil on them, then sprinkle with more bread crumbs to create a slightly crunchy top. Grill them on one of the higher shelves in your oven for about 10 minutes or until they are bubbly and golden.
Tags