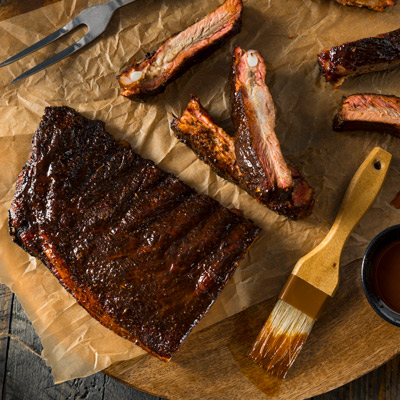 Ingredients
2 teaspoons paprika smoked

1 teaspoon garlic powder

1 teaspoon cumin ground

1/4 teaspoon cayenne pepper

2 teaspoons Kosher salt

1 teaspoon freshly ground black pepper

2 racks (about 5 pounds) baby back or country-style pork ribs

1/2 cup Podnah's Barbecue Sauce

1/4 cup bourbon (preferably Woodford Reserve Double Oaked)

2 tablespoons dark brown sugar packed
Directions
Preheat oven to 350 degrees F. Combine smoked paprika, garlic powder, cumin, cayenne, salt and pepper in a small bowl. Place each rack of ribs on a sheet of foil large enough to wrap around it. Sprinkle both sides of each rack generously with the spice mixture and rub it in (you may not use it all). Wrap racks in the foil and place each on a rimmed baking sheet. Bake ribs until fully-cooked and tender, about 2 hours for baby backs and 3 hours for spareribs.

Unwrap the ribs and pour the meat juices into a measuring cup (reserve for making the sauce). When ribs have cooled, rewrap in the foil and refrigerate (ribs can be cooked several days ahead).

In a small saucepan, combine the barbecue sauce, bourbon, brown sugar, and ½ cup of the meat juices. Bring to a simmer over medium-high heat and cook until reduced by one-third, about 5 minutes (sauce can be made several days ahead and refrigerated.)

Preheat a charcoal or gas grill to medium-hot (you should be able to hold your hand 5 inches above the grate for 5 to 7 seconds before it gets too hot). Lightly oil the cooking grate, set the ribs on it and brush with barbecue sauce. Grill, brushing with the sauce and turning every few minutes, until ribs are hot and coated with a few layers of sauce, about 10 minutes.

To serve, cut between each rib and divide among plates. Serve the leftover sauce at the table.