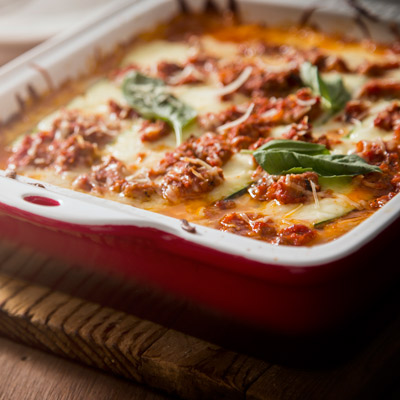 Ingredients
1 1/2 pounds bulk Italian sausage

1 tablespoon olive oil

2 16-ounce containers Marinara

1 16-ounce container Fresh Pasta Sheets (8 sheets)

2 cups Calabro ricotta cheese

2 cups mozzarella cheese, shredded
Directions
Preheat oven to 350ºF.

In a large skillet over medium-high heat, sauté Italian sausage in olive oil, using a spoon to break sausage into small pieces as it cooks. Cook 8-10 minutes, or until cooked through.

Meanwhile, pour enough marinara sauce to cover the bottom of a 9" x 13" baking dish. Lay out 2 pasta sheets covering the bottom of the baking dish. Dollop ricotta, sausage, mozzarella and sauce to cover. Add another 2 sheets of pasta and repeat layering for 2 layers. Cover the last 2 pasta sheets with remaining sauce and mozzarella.

Cover tightly with foil and place in preheated oven for 25 minutes. Remove foil and cook 10 more minutes.
Tags