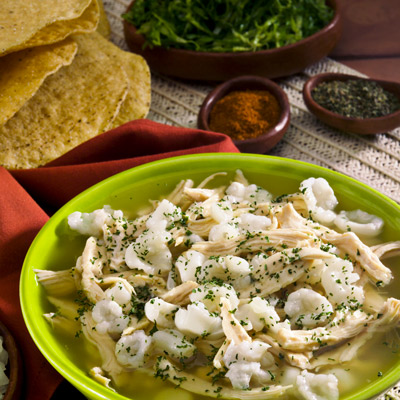 Ingredients
For the Chicken:
2 tablespoons olive oil

1 medium onion, sliced

1 cup tomatillo salsa

4 cups chicken broth

1 roasted chicken, meat removed from bones

29 ounce can hominy, rinsed

15 ounce can black beans, rinsed
GARNISH OPTIONS:
onion sliced

avocado

radishes

cucumbers

cabbage shredded

cilantro chopped
Directions
In a large saucepan, heat oil and sauté the onion until softened. Then, add the salsa and stir. Simmer for 5 minutes, stirring occasionally to concentrate flavors.

Pour in the chicken broth and simmer for an additional 10 minutes to meld the soup flavors.

Add the chicken, hominy, and black beans to the simmering soup. Continue to cook until all ingredients are fully cooked through.

Season the soup with salt and pepper to your preferred taste.Ladle the soup into bowls and garnish with fresh vegetables and herbs.
Tags