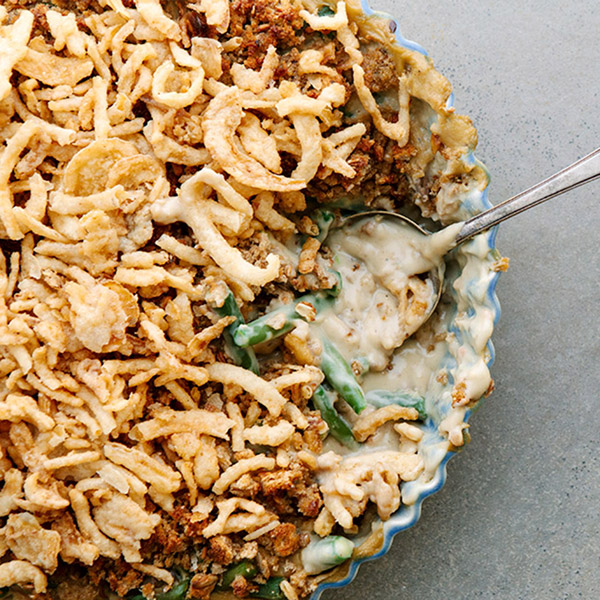 Ingredients
1/2 pound fresh green beans, trimmed and cut into bite sized pieces

1 teaspoon sea salt

1 tablespoon olive oil

1/2 pound mushrooms chopped

3 cloves garlic minced

generous pinch cayenne

2 tablespoons flour

3/4 cup vegetable broth

1 tablespoon dry sherry

3/4 cup soy creamer

to taste salt and pepper

1 1/2 slices grain bread whole

1 tablespoon Earth Balance buttery sticks

1/2 teaspoon each sea salt and black pepper

1 3 oz can fried onions
Directions
Preheat oven to 425. Bring 2 quarts of water to boil in a large pot. Add salt and beans, cover and cook for 6 minutes. Drain and shock with cold water (to halt cooking). Set aside. In a large skillet over medium heat, heat olive oil. Add mushrooms, garlic, cayenne, salt, and pepper. Cook until mushrooms are very soft and release their juices, 6-8 minutes. In a medium mixing bowl, whisk together flour, vegetable broth and sherry and add to mushrooms. Bring to a simmer, stirring until mixture thickens. Add creamer and continue to simmer, 5-6 minutes. Season with salt and pepper and stir in beans.

Topping: Pulse together bread, earth balance, salt, and pepper in a food processor until it resembles coarse crumbs.

Place green beans in an oiled 9"x13" baking dish and top with bread. Bake in preheated oven for 15 or until warmed through.