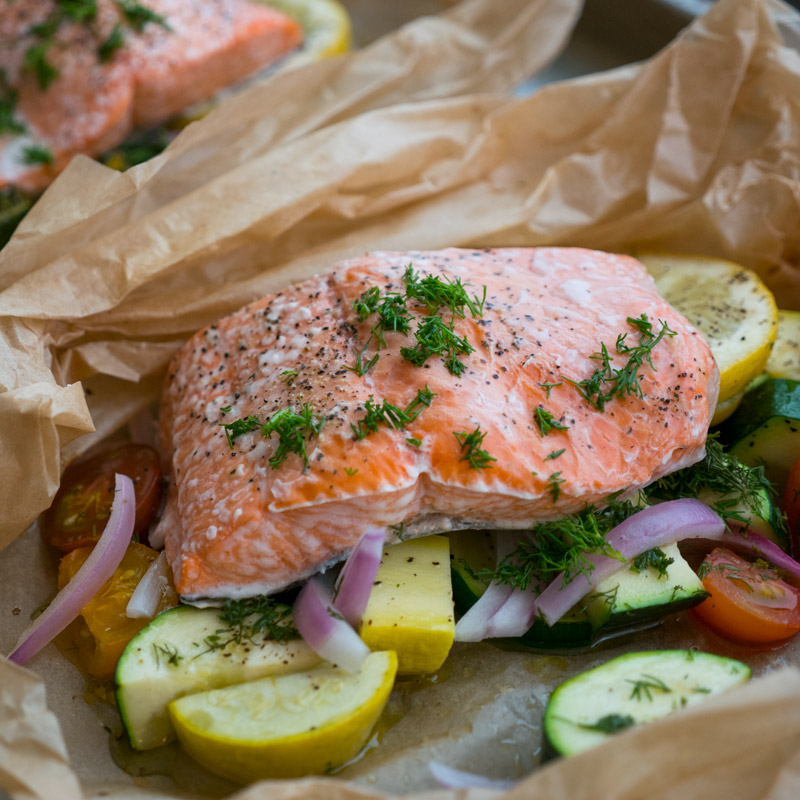 Ingredients
2 6-oz. Sockeye salmon fillets

2 small summer squash and/or zucchini halved

12 cherry tomatoes halved

1/4 red onion sliced

1 teaspoon fresh dill chopped

2 slices lemon

1 tablespoon fresh lemon juice

extra virgin olive oil

salt and pepper
Directions
Preheat the oven to 350 degrees F. Tear off two large pieces of parchment paper and fold in half to crease. Open and lay flat.

On one side of the crease, place half of the zucchini, cherry tomatoes, red onion, dill, and one lemon slice. Drizzle with olive oil and season with salt and pepper. Place salmon fillet on top and drizzle with lemon juice. Season with additional salt and pepper. Repeat process for second parchment paper with remaining ingredients.

Fold the parchment paper over the salmon, and seal the sides with small pleats. The finished result should resemble a half-moon shape. Place packets on a rimmed baking sheet and bake for 15-20 minutes until the salmon is opaque. Serve immediately.