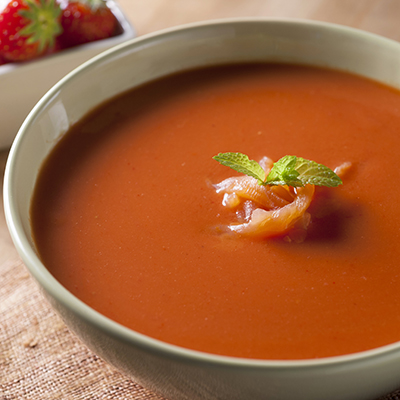 This easy-to-prepare cold soup is a fresh and delicious take on the Spanish classic. Unlike traditional gazpacho, this version is thickened with nuts, so it is also gluten-free. Wonderful paired with grilled scallops!
Ingredients
1 cup roasted and salted cashews

2 cloves garlic peeled

1/2 teaspoon kosher salt, plus extra

3 pounds ripe heirloom tomatoes seeded

1 pound strawberries, hulled

1/2 cucumber peeled

1 red bell pepper, cored and seeded

1/2 medium sweet onion peeled

1/2 cup mild olive oil, such as Arbequina

3 tablespoons red wine vinegar

cucumber, strawberry, and mint for garnish finely diced
Directions
Working in two batches in a blender, combine half the cashews, garlic, vegetables and strawberries. Puree until very smooth.

Add half the olive oil to the blender and puree until fully incorporated. Transfer the soup to a large bowl.

Repeat the blending process with the remaining ingredients and transfer to the same bowl.

Stir the vinegar and salt into the soup. Taste and adjust seasoning to your liking.

Cover and refrigerate for at least two hours before serving. Serve topped with cucumber, strawberry and mint.
Tags