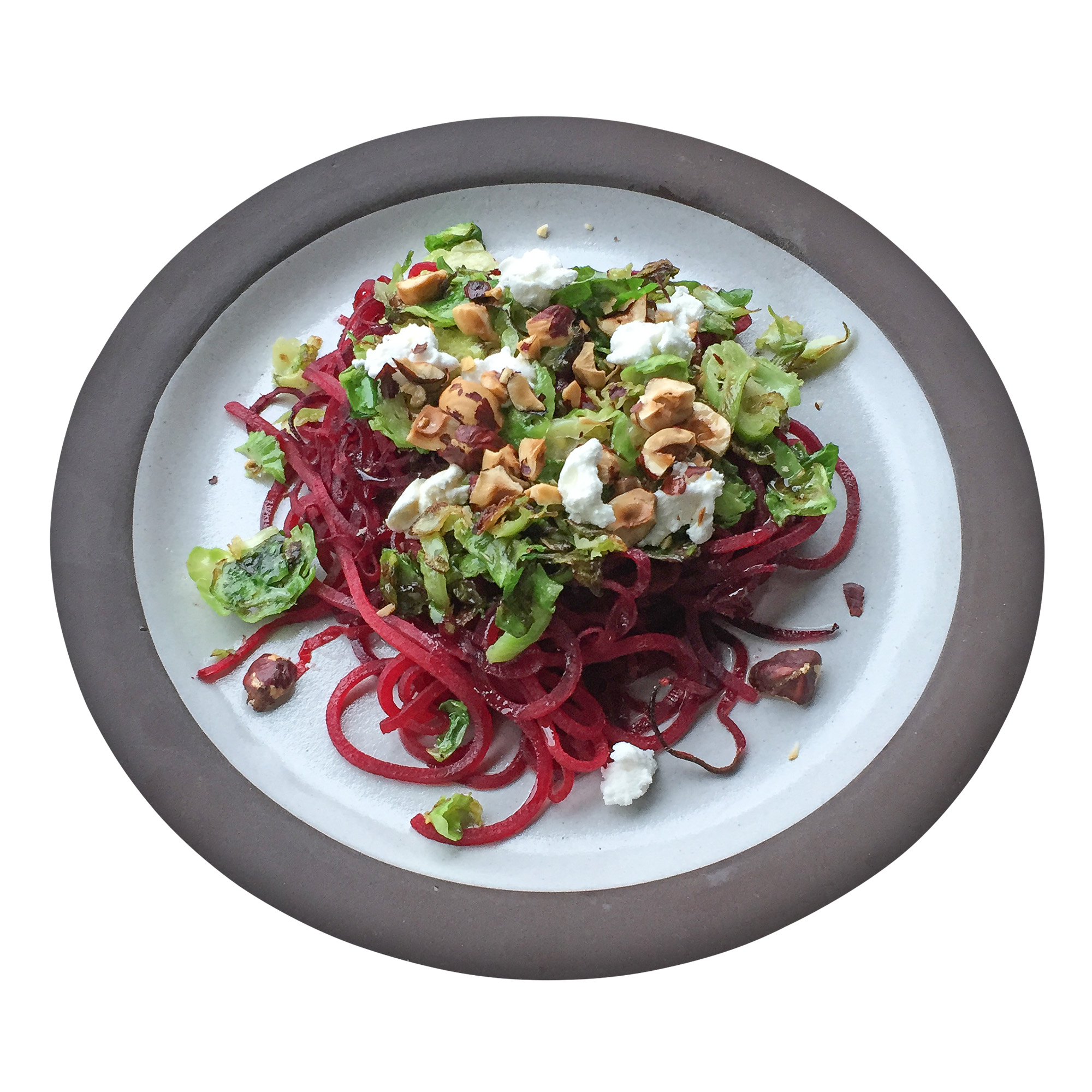 Ingredients
3 medium or 2 large beets, cut into noodles using a spiralizer - we used the 3mm blade

2 tablespoons avocado oil, divided

3 cups Brussels sprouts, shredded

1/4 cup toasted hazelnuts, roughly chopped

Hazelnut oil for finishing

Sherry vinegar (may sub balsamic) for finishing

salt and pepper

chevre or almond/cashew ricotta for topping
Directions
Preheat oven to 425°F and line a rimmed baking sheet with parchment paper. Spread spiralized beets evenly onto parchment covered baking sheet, drizzle with 1-2 tablespoons avocado oil, and a few pinches each of salt and pepper. Place in oven and set a timer for 12 minutes.

While beets are cooking, heat remaining 1-2 tablespoons of avocado oil in a 10" skillet over medium heat. Once oil is hot (it will look like it's shimmering), add Brussels sprouts and allow to cook, undisturbed, until beginning to brown in some areas, about 3-5 minutes. Once you notice some browning, stir, then leave to cook undisturbed for another 3-5 minutes. Season with a few pinches of salt and pepper, remove from heat.

Assemble on a platter or as individual servings. Start with a layer of beets, top with Brussels sprouts, then add hazelnuts and crumbled goat cheese or nut-based ricotta, drizzle with hazelnut oil and sherry vinegar. Season with additional salt and pepper, if desired.
Tags