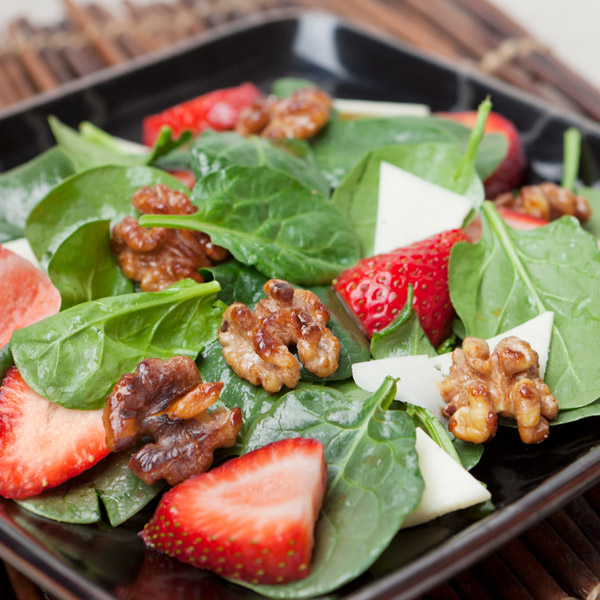 A strawberry salad that balances sweet and tart. Don't wait on this! Fresh, local strawberries are only in season for a limited time.
Ingredients
VINAIGRETTE:
1/2 cup walnut oil

1/2 cup shallots thinly sliced

3 tablespoons red wine vinegar

2 teaspoons Dijon mustard

Kosher salt

black pepper

2 ounces Parmesan–shaved on top
SALAD:
2 bunches spinach (about 8 cups, loosely packed)

1 pint strawberries, hulled (stems/leaves removed) and thinly sliced, divided

1/2 cup coarsely chopped toasted walnuts

2 ounces Parmesan–shaved on top
Directions
In a small saucepan over medium heat, warm the oil with the shallots.

Reduce heat to low and cook until the shallots are softened, but not browned.

Add the vinegar and mustard, whisking to emulsify. Season to taste with salt/pepper.

In a large serving bowl, place the spinach and season with salt/pepper then add strawberries and walnuts.

Add half of the vinaigrette, toss well to coat and then add more, one tablespoon at a time. Shave Parmesan on top and garnish.