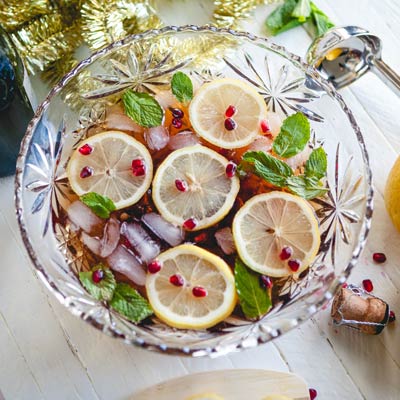 Ingredients
SIMPLE SYRUP:
1/2 cup water

1/2 cup sugar
PUNCH:
2 750-ml bottles chilled brut sparkling wine

1 1/2 cups white rum

1 1/4 cups pomegranate juice

1 large lemon thinly sliced

1/2 cup Pomegranate arils

handful of fresh mint leaves

1 ice block
Directions
To make simple syrup: Bring 1/2 cup water and sugar to boil in small saucepan, stirring until sugar dissolves. Simmer 5 minutes. Cool syrup completely.

To make punch: In a punch bowl, combine sparkling wine, rum, and pomegranate juice in punch bowl. Add enough syrup to sweeten to taste. Add ice block* to bowl.

Garnish with lemon slices, pomegranate arils, and mint leaves.

*Cubes may be used but they will melt faster. For best results, serve punch in a drink dispenser with an enclosed ice container.
Tags