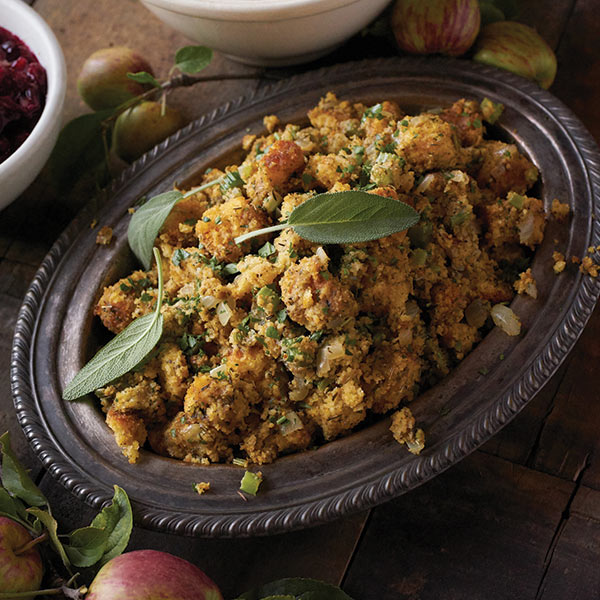 Ingredients
1 pound pork sausage

1 16 oz bag bread stuffing

2 tablespoons butter

2 medium onions diced

4 large celery stalks diced

to taste Kosher salt and fresh ground pepper,

2 Pink Lady or Envy apples, cored and diced whole

2 teaspoons dried thyme

1 teaspoon dried sage

1/2 cup dried cranberries, plumped in 1 cup warm apple cider

1/2 cup parsley chopped

1 quart chicken or turkey stock

4 tablespoons butter, cut into small bits
Optional Ingredients
Directions
Heat a large skillet over medium heat and cook pork sausage about 10 minutes, breaking into smaller pieces.

Place bread stuffing in a large bowl and pour cooked sausage and pan drippings on top. Mix and let rest while flavors to soak in.

Add butter to skillet and sauté onions and celery with a dash of salt over medium heat until soft, about 5 minutes, then add apples and continue to sauté for 4 more minutes. Remove from heat and add to bread mixture.

Add thyme, sage, parsley and cranberries in cider, to the bread mixture. Add 2 teaspoons of salt and ½ teaspoon of pepper. Mix to combine. Continue mixing while slowly adding in 4 cups of stock until all bread is evenly soft. Taste and adjust seasoning with salt and pepper.

If using eggs, add to stuffing and mix well to combine. The eggs are not necessary, but act as a binding agent to hold stuffing together and create a moister texture.

Place stuffing in buttered 9' x 13" baking dish, and gently pat down. Dot with butter bits. At this point you can cover and refrigerate stuffing for up to 3 days.

Place in preheated 350° oven and bake for 35 to 45 minutes or until heated through and golden on top.