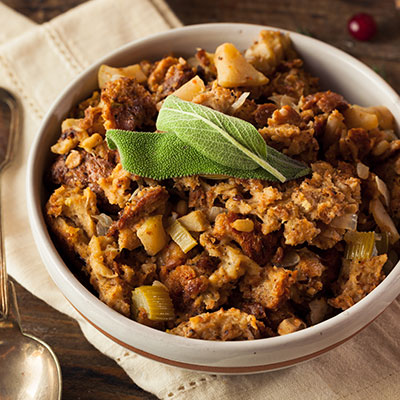 From Anna K. at Grant Park!
Ingredients
1 pound chanterelle mushrooms chopped

1/2 pound bacon, cut in 1" pieces

1 loaf day old bread cubed

3 tablespoons butter

2 cloves garlic minced

1/3 cup fresh herb mixture: thyme, oregano, marjoram and sage

1 cup celery

2 small shallots chopped

3/4 cup chicken broth

salt & pepper
Directions
Saute bacon pieces in frying pan on medium heat; add in mushrooms, garlic, her mix, celery and shallots when bacon is starting to get crispy. Cook down and set aside.

Melt butter and toss is with the bread chunks. Combine bread mushroom mixture and broth and place in a baking sheet.

Bake at 350 degrees for 45 minutes covered and an additional 15 minutes uncovered or until golden brown.