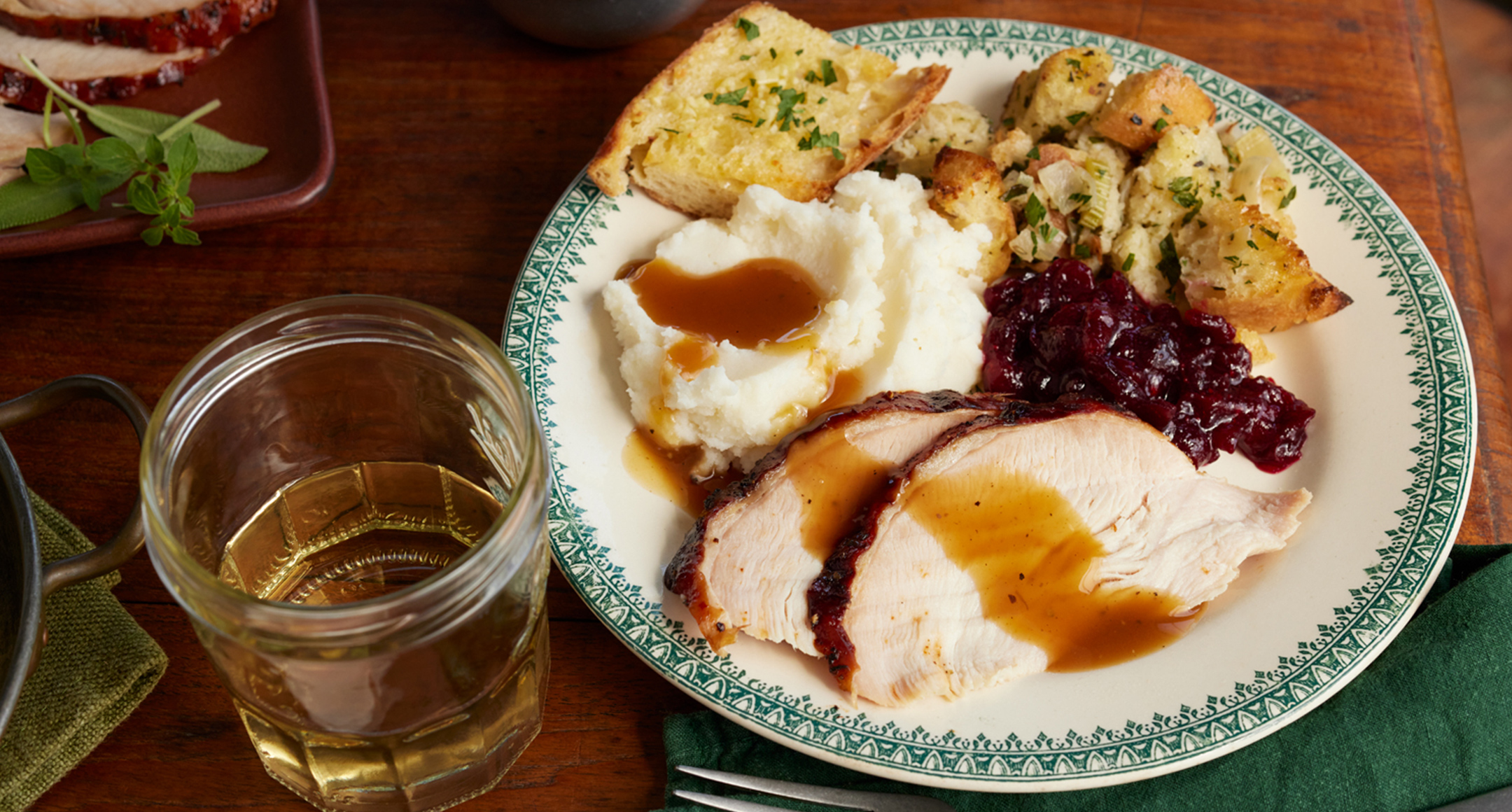 Ingredients
14-16 pound turkey, legs tied and giblets removed

1 rinsed celery stalk, thinly sliced

1 rinsed carrot, thinly sliced

1 onion, peeled and thinly sliced

6 cloves garlic

8 sprigs washed thyme

2 sprigs washed rosemary

Kosher salt & black pepper

4 cups water

4 1/2 cups turkey stock (or chicken stock)

1/4 cup plus 2 tablespoons all-purpose flour
Directions
Preheat oven to 350°F. Set turkey on a rack in a large roasting pan and scatter the turkey heart, gizzard and neck, sliced celery, onion, and garlic, and herb sprigs all around. Season turkey with salt and pepper.

Add 2 cups of water to pan. Roast turkey for 1 hour and 15 mins, then add remaining 2 cups of water to roasting pan. Cover turkey with foil and roast for 1 hour and 15 mins, or until instant-read thermometer registers 170°F in the thickest part of the thigh.

Transfer turkey to a cutting board, and let rest for 30 minutes.

While the turkey is resting, make the gravy. Strain the pan juices into a heatproof measuring cup. Press on the solids and skim the fat. Pour the pan juices into a medium saucepan. Add 4 cups of turkey stock and boil until reduced to 5 cups, about 10 minutes.

In a bowl, whisk the flour with the remaining ½ cup stock, then whisk the mixture into the saucepan. Boil, whisking, until the gravy is thickened. Carve turkey and serve with gravy.