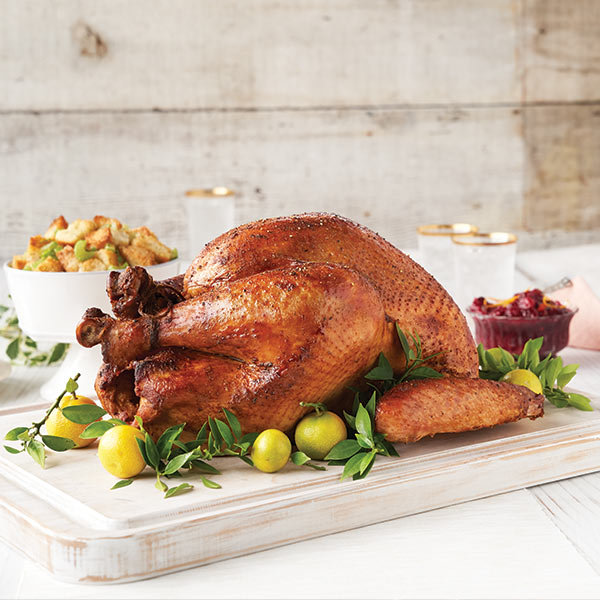 Ingredients
DRY BRINE RECIPE:
1 cup Kosher salt (we recommend Diamond brand)

1/4 cup brown sugar

1 teaspoon fresh ground black pepper

2 teaspoons dried thyme

2 teaspoons dried sage
ROASTING:
Instant read thermometer

1 20-pound turkey, patted dry

2 carrots, washed and cut into 1 inch pieces

2 stalks celery, washed and cut into 1 inch pieces

2 yellow onions peeled

1 stick butter melted

1 teaspoon fresh ground pepper

1 teaspoon sage ground

1 teaspoon dried thyme

1/2 teaspoon paprika
Directions
Preheat oven to 325°. One hour prior to cooking, remove bird from the refrigerator, and pat dry with paper towels if roasting a wet-brined. Tuck wings behind back.

Scatter vegetables on the bottom of an open roasting pan. Place Turkey on top of the vegetables, breast side up.

Mix pepper and herbs into the melted butter and brush herb butter all over the bird and under the skin of the breast.

Place in preheated oven and roast approximately 15 minutes per pound. There is no need to turn the bird or baste it. In fact, the less you open the oven door the better.

For delicious gravy, pour 2 cups of wine over the bird after 2 hours of roasting.

The total roasting time should be approx. 3 ½ hours. Start testing for doneness after 3 hours. If the skin is getting too dark, place a piece of foil over the breast for the remainder of the cooking time. Cook until internal temperature of the bird at the thickest part of the thigh (avoid touching the bone) reaches 165°F. Remove bird from the oven, place on platter and tent with foil. Let rest for 15 to 30 minutes before you begin carving the turkey.