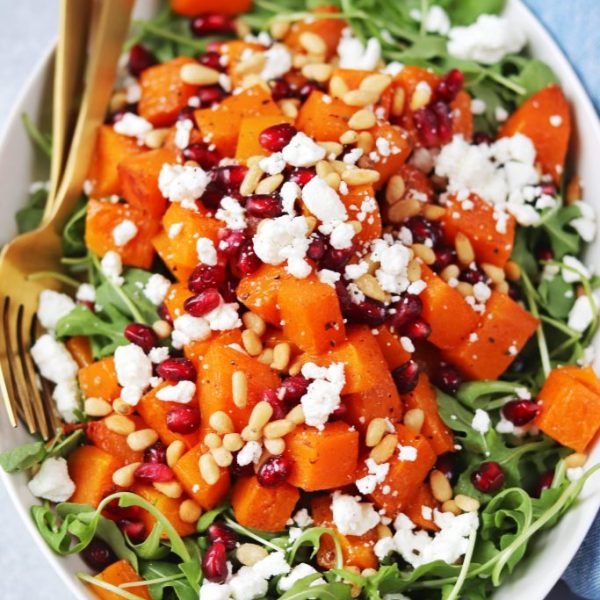 Roasted Butternut Squash combined with goat cheese, pomegranates, and rosemary makes an absolutely delicious, simple, and flavorful dish. Great for a holiday side dish, but simple enough for easy weeknight meals on a bed of greens. Gluten-free & Vegetarian
Ingredients
FOR THE SQUASH:
10 c chopped organic butternut squash

1/2 teaspoon garlic powder

1 tablespoon coconut oil melted

1/2 cup pomegranate seeds

1/2 cup crumbled goat cheese

to taste salt & pepper
Optional Ingredients
5 ounces preferred greens (optional)
FOR THE DRESSING:
2 tablespoons lemon juice

1 tablespoon balsamic vinegar

2 tablespoons fresh rosemary, freshly chopped

to taste salt & pepper
Directions
Preheat oven to 375 degrees F and line 1-2 baking sheets with parchment paper.

Rinse and toss the butternut squash with coconut oil, garlic powder, salt, and pepper and mix well to combine. Spread out evenly on the baking sheets and bake for 30-40 minutes or until fork-tender, stirring once around 20 minutes.

Rinse and pour your arugula (or other desired greens) into a bowl and top with the baked squash. Toss with the dressing mixture and top with pomegranate seeds and goat cheese. Serve immediately and enjoy!