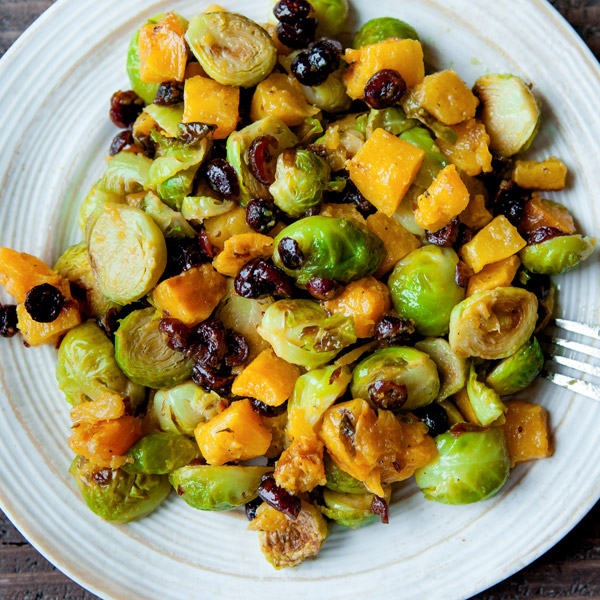 Ingredients
1 pound butternut squash, peeled

1 pound Brussels sprouts, trimmed and sliced lengthwise in half

1/2 cup dried cranberries (sweetened or unsweetened is fine)

2 teaspoons Dijon mustard

1 tablespoon rice wine vinegar

4 tablespoons extra virgin olive oil, divided

2 teaspoons salt

freshly ground black pepper
Directions
Preheat oven to 450 degrees F.

In a large bowl, toss together Brussels sprouts, butternut squash chunks, 2 tbsp olive oil, 1 tsp salt, and pepper. Mix until vegetables are coated evenly.

Arrange veggies on a large baking sheet with Brussels sprouts facing cut side-down. Be sure to leave some space between everything so they can get nice and caramelized.

Roast for 20-30 minutes, tossing gently about halfway through, or until veggies are tender and caramelized/golden brown. During the last five minutes of roasting, scatter dried cranberries on baking sheet.

Remove from oven and allow to cool slightly.

In a small bowl, whisk together rice wine vinegar and Dijon. While whisking continuously, slowly pour in olive oil until emulsified. Season with salt and pepper to taste.

Gently toss roasted veggies with vinaigrette in a serving bowl until lightly dressed. Serve warm, room temperature, or chilled.