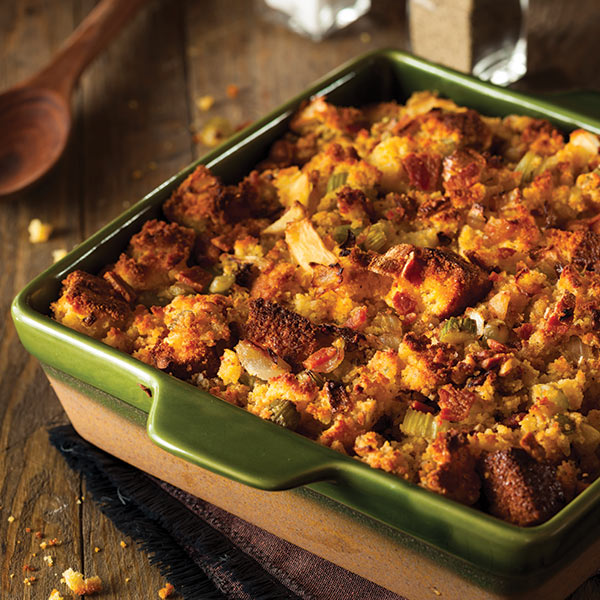 Ingredients
8 tablespoons extra virgin olive oil, divided

5 pounds butternut squash peeled

Kosher salt and fresh ground black pepper

2 medium leeks, light green and white portion sliced

2 cups celery (about 4 large stalks) diced

1 cup Pinot Gris wine

1 16 oz bag Artisan bread stuffing

3 tablespoons fresh thyme or sage, or combination, chopped

1 quart vegetable or mushroom stock
Directions
Preheat oven to 425°. Toss squash in 3 tablespoons of olive oil and place in one layer on a rimmed baking sheet. Sprinkle with salt and roast approximately 25 minutes or until tender. Stir halfway through.

On medium heat, heat 3 tablespoons of olive oil in a sauté pan and add drained leeks, celery and 1 teaspoon salt. Stir and sauté until softened, about 5 minutes, and add wine. Increase heat to medium high and let wine reduce by half. Remove from heat.

Place bread stuffing in a large bowl and add roasted squash, celery-leek mixture, herbs, 2 teaspoons salt and ½ teaspoon freshly ground black pepper. With a large spoon, mix to combine and add stock and stir until all bread is softened.

Place in an oiled 9" x 13" baking dish and drizzle the top with 2 tablespoons of olive oil.

At this point, you can cover and refrigerate stuffing for 3 days.

When ready to serve, remove from refrigerator, uncover and place in a preheated 350° oven, for approximately 30 minutes or until the top is golden brown and it is heated through.