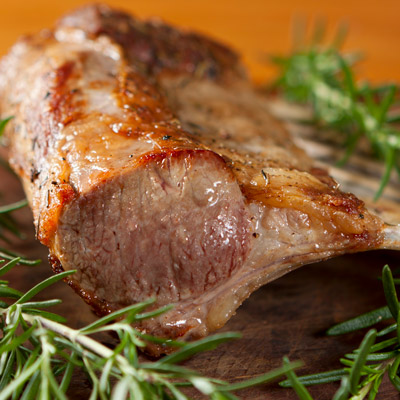 Ingredients
1 head of garlic, cloves peeled

1/4 cup rosemary leaves

1/4 cup extra virgin olive oil

2 racks of lamb, frenched (2 pounds each)

salt and freshly ground pepper
Directions
In a mini food processor, combine the garlic, rosemary and olive oil and process until the garlic is finely chopped. Season the lamb racks with salt and pepper and rub the garlic-rosemary oil all over them. Set the racks fat side up on a large rimmed baking sheet and let stand for 1 hour.

Preheat the oven to 450° F. Roast the lamb in the upper third of the oven for 15 minutes. Turn the racks and roast until the desired temperature is reached. Transfer the racks to a carving board, stand them upright and let rest for 10 minutes.

Carve the racks in between the rib bones and transfer to plates. Serve right away.
Tags