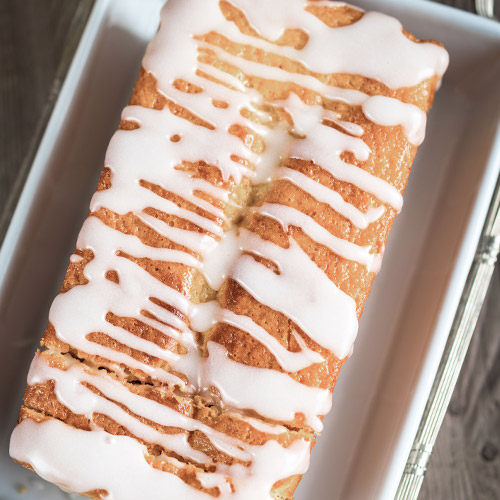 Ingredients
FOR BREAD:
1 1/2 cups all-purpose flour

2 teaspoons baking powder

1/2 teaspoon kosher salt

1 cup plain whole-milk yogurt

1 cup sugar

3 extra large eggs

1/2 teaspoon pure vanilla extract

1 tablespoon pummelo zest

1/2 cup olive oil
FOR SYRUP:
1/3 cup pummelo juice

1 tablespoon sugar
FOR GLAZE:
2 tablespoons pummelo juice

1/2 cup confectioner's sugar, sifted
Directions
Preheat oven to 350°F.

Grease an 8 ½" x 4 ¼" by 2 ½" loaf pan. Line bottom with parchment paper.

Sift together flour, baking powder, and salt into one bowl.

In another bowl, whisk together yogurt, sugar, eggs, zest, and vanilla.

Slowly whisk the dry ingredients into the wet ingredients.

With a rubber spatula, fold olive oil into the batter, blending thoroughly.

Pour batter into the prepared pan and bake for about 50 minutes, or until fully cooked through. Test for doneness by inserting a toothpick, it should come out clean.

Meanwhile, make the syrup by combining pummelo juice with sugar in a small pan on medium heat until the sugar dissolves and the mixture is clear. Set aside.

When bread is done, allow to cool in pan for 10 minutes.

Remove from pan and carefully place on baking rack over a sheet pan.

While still warm, evenly pour syrup over the top of the bread and allow it to soak in. Cool.

For the glaze, combine pummelo juice and sifted confectioner's sugar and pour over the bread. Serve at room temperature.