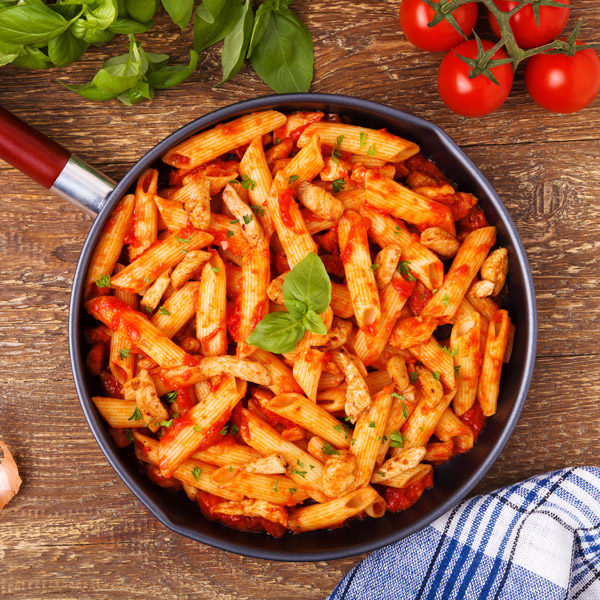 Ingredients
1 1/2 pounds boneless, skinless chicken breast

1 tablespoon olive oil

1 box penne pasta

1 8-ounce ball of fresh mozzarella cubed

1 jar Arrabbiata sauce

2 Roma tomatoes diced

1/2 teaspoon red pepper flakes (or more or less according to spice preference)

1 handful fresh basil leaves, rinsed and rough chopped

salt & pepper
Directions
Season chicken breasts with salt and pepper. Heat olive oil in a large skillet over medium heat. Cook chicken breasts until fully cooked (165 degrees internal temperature).

Remove chicken from heat and cover with aluminum foil to keep warm.

Meanwhile, boil water for pasta in a medium-large pot. Salt water generously and cook pasta for recommended cooking time. (If you like your pasta al dente, consider cooking it until just slightly underdone—it will cook a little more when you add sauce later.)

Drain pasta and set aside. Add jarred sauce and chopped tomatoes to pasta pot. Cook over medium heat till sauce starts to boil, reduce heat to simmer. Stir in red pepper flakes. Season with salt and pepper as needed. Stir in chicken.

Add pasta to pot. Cook until pasta is heated through. Top with cubed mozzarella. Turn heat off and cover pot to allow mozzarella to melt. Top with fresh basil and serve immediately.
Tags