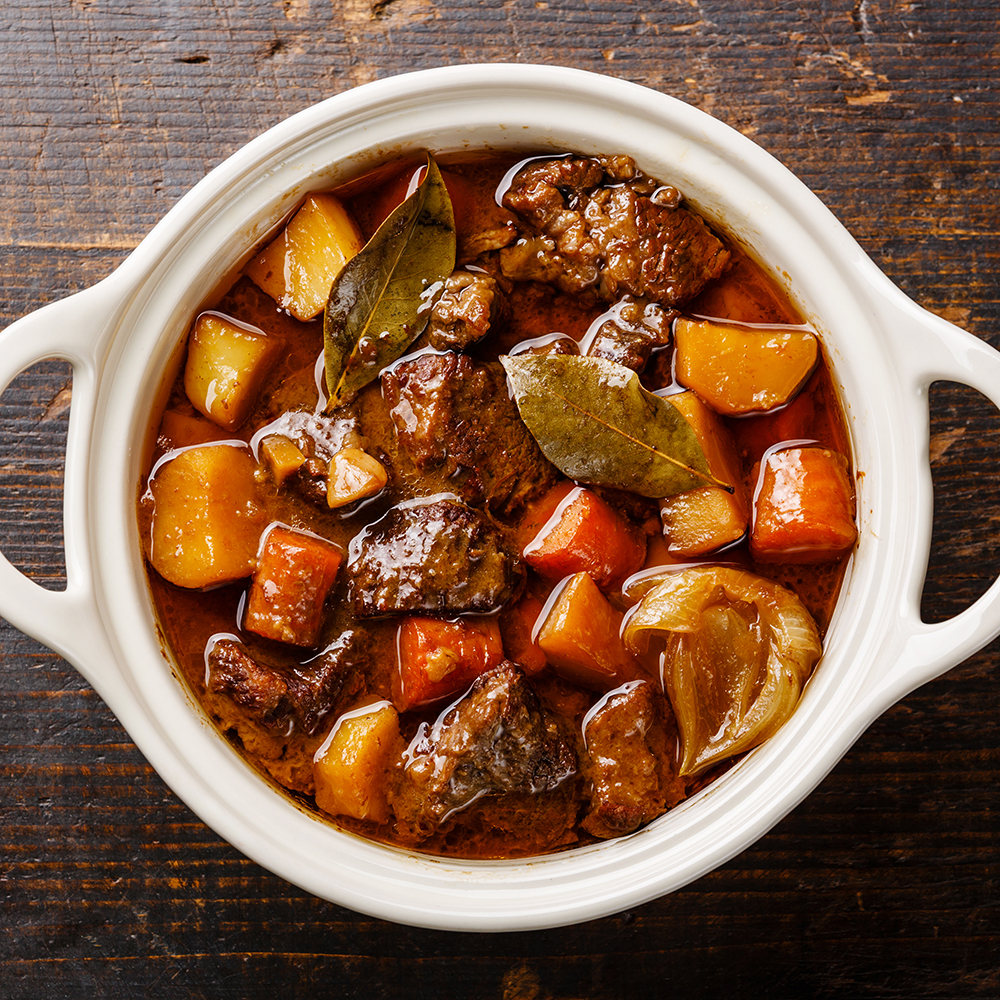 Ingredients
3 tablespoons olive, avocado, or grapeseed oil

3 pounds beef stew meat, cubed

1 tablespoon Kosher salt

2 teaspoons freshly ground black pepper

2 yellow onions, peeled and chopped

1/4 cup flour

3 cloves garlic, minced

1 tablespoon fresh thyme leaves, rinsed

1 tablespoon tomato paste

1 cup red wine

3 cups beef broth

1 bay leaf

3 large russet potatoes, rinsed and diced

4 carrots, rinsed and diced

1 10 ounce package frozen peas
Directions
On medium-high, heat 2 tablespoons of oil in a large heavy-bottomed pot, then add the beef, careful not to overcrowd the pot. Season with salt and pepper. Brown meat on all sides, then remove to a bowl and set aside. You may need to cook in two batches so the meat browns.

Add 1 tablespoon of oil to the pot and sauté the onions. When they start to become softened (about 5 minutes) reduce the heat to medium low and add the flour. Cook 2 minutes, stirring often.

Add garlic and thyme, and cook 1 more minute. Stir in tomato paste. Add the wine and deglaze the pan, scraping any browned bits stuck to the bottom of the pan. The flour will start to thicken the wine as it comes to a simmer.

Simmer for 5 minutes, then add the broth, bay leaf, and browned beef cubes and juices. Bring back up to a simmer, cover and cook on low for about an hour.

Add the potatoes and carrots and simmer for another hour or until the vegetables are tender. Taste and adjust seasoning with additional salt and pepper.

Add frozen peas, heat for a few more minutes, then serve. To allow the flavors to fully marry, this stew is best made a day in advance.