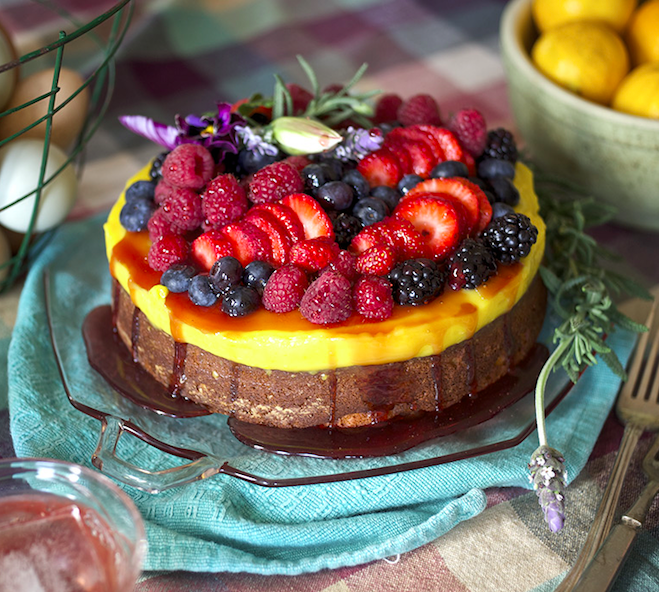 This delicious Meyer lemon cake highlights the luscious flavor of the amazing berries grown in the Pacific Northwest. The perfume from the Meyer Lemons compliments the floral notes of the Raft Hibiscus Lavender Syrup, making it the perfect ode to Spring.
Ingredients
CAKE:
1 1/3 cup all purpose flour

1 1/2 teaspoon baking powder

1/2 teaspoon Kosher salt

3/4 cup sugar

1 Meyer lemon, juiced and zested with a fine zester

3/4 cup plain yogurt, at room temperature

1/4 cup extra virgin olive oil

2 large eggs, at room temperature

1 teaspoon vanilla extract

2 tablespoons RAFT Hibiscus Lavender Syrup
MEYER LEMON CURD FILLING:
3/4 teaspoon powdered unflavored gelatin

1 ½ tsp cold water

4 ounces (1 stick) unsalted butter, at room temperature

1 cup sugar

4 Meyer lemons, juiced and zested with a fine zester

pinch of Kosher salt

2 large eggs, at room temperature

4 large egg yolks, at room temperature
CAKE ASSEMBLY:
8" Meyer Lemon Yogurt Cake

1 pint Meyer Lemon Curd Filling

1 quart fresh berries (Strawberries, Raspberries, Blackberries, Blueberries, Huckleberries, Marionberries, Cherries, Currants—whatever spring berries you desire!)

1/4 cup Raft Hibiscus Lavender Syrup

fresh lavender sprigs or other Edible flower petals
Directions
Prepare an 8" round cake pan by greasing the bottom and sides with butter and lining the bottom with a circle of parchment, dust the sides with flour, tap out excess.

Preheat oven to 350 degrees F. In a mixing bowl, whisk together Flour, Baking Powder, and Salt. In another mixing bowl, whisk together the Meyer lemon zest, lemon juice, yogurt, olive oil, and vanilla extract. In a standing mixer with a whisk attachment, whip eggs and sugar at high speed until pale in color, light and fluffy and the mixture creates ribbons when it falls away from the whisk. Using a rubber spatula, alternating each, gently fold yogurt and flour mixtures into the eggs in three batches, blending well after each addition.

Pour batter into prepared cake pan and bake for 45 minutes until cake tester comes back clean, and top is golden-brown and springs back lightly when gently pressed. Cool on a wire rack for 10 minutes, then un-mold onto wire rack and let cool completely.

Once cool, stab cake all over with a wooden skewer and pour the Raft Syrup over top of the cake, letting it soak in. Wrap in plastic until ready to assemble.

Covered in plastic wrap, the cake will last for up to four days.

Dissolve gelatin in water and set aside. In a medium saucepan over medium heat, melt butter. Once butter has melted, remove from heat and whisk in sugar, lemon juice, lemon zest, and salt.

Slowly add eggs and egg yolks, making sure to whisk well. Over medium heat gently cook the curd, constantly stirring with heat-proof rubber spatula and scraping along the bottom of the pan. Cook until curd thickens, and the top appears glossy and starts to wrinkle a bit at the edges when scraping with rubber spatula. Remove from heat. Whisk in dissolved gelatin and strain curd with a fine mesh strainer into a bowl. Press a piece of plastic wrap along the surface of the curd so that a skin does not form.

Refrigerate at least 8 hrs., or overnight. Curd will last in refrigeration for up to 2 weeks.

Spread the Meyer Lemon Curd Filling over the top of the cake, and top with the Fresh Berries. Pour the Raft Syrup over the top of the berries and decorate with Fresh Lavender Sprigs or Edible Flower Petals.