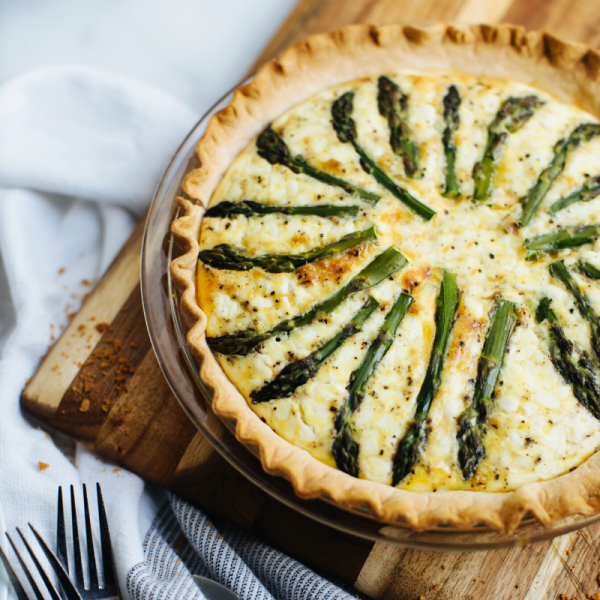 Before starting your prep work, be sure to rinse & clean your produce!
Ingredients
3/4 cup red onion, diced

1 tablespoon butter

1 bunch asparagus, tough ends removed

1/2 teaspoon lemon zest

1 9-inch pie crust

1 cup half and half

4 eggs

1/4 teaspoon dried basil

pinch of salt

freshly ground pepper

1 cup jack cheese shredded
Directions
Sauté the red onion in butter until soft and slightly caramelized.

Combine half and half, eggs, basil, salt, pepper, and lemon zest. Whisk well in medium sized bowl and set aside.

Steam asparagus until crisp tender, cut into bite size pieces and set aside 8 tips approximately 2" long to garnish the top of the quiche.

Spread half of the cheese on the bottom of the pie shell. Layer in asparagus pieces, then sautéed onion and top with remaining cheese. Pour in egg mixture and arrange reserved asparagus tips on top in a sunburst pattern.

Place in pre-heated 450°F oven and after 15 minutes, turn oven down to 350°F and continue to bake until firm about ½ hour. Let rest for 15 minutes before serving.
Tags