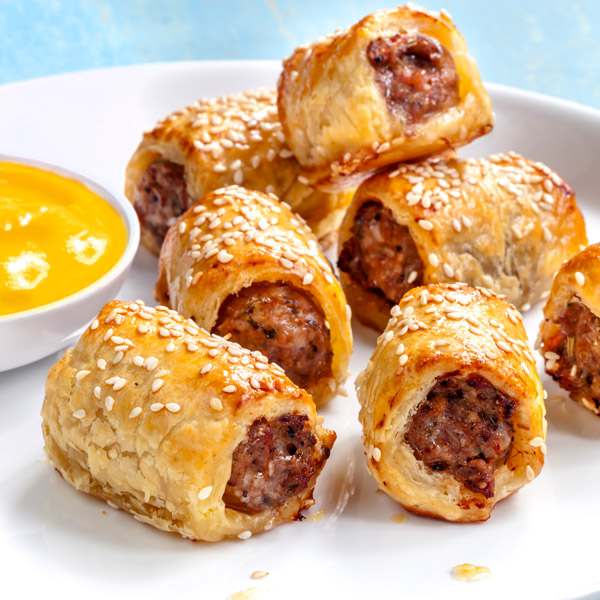 Ingredients
4 full-sized fresh pork sausage links (bratwurst or Italian are nice here)

1 pound prepared pizza dough, refrigerated

1 large egg

1 tablespoon water

1/8 teaspoon salt

4 tablespoons sesame seeds

yellow mustard for dipping
Directions
Cook sausages until browned and cooked through. Allow to cool. Cut each sausage into four even pieces length-wise, for a total of 16 sausage sections.

Preheat oven to 425 degrees F. Line baking sheet with parchment paper.

Roll out the pizza dough on a lightly floured surface into a rectangle approximately 9"x12" in size. Cut dough into 16 strips horizontally, approximately ¼" wide.

Roll strips of dough around sausage sections, covering each piece from top to bottom. Tuck the end under the roll and place on baking sheet. Repeat for each sausage section.

Whisk together egg, water and salt in a small bowl. Brush over top and sides of each roll. Sprinkle sesame seeds evenly over each roll.

Bake approximately 25 minutes or until golden brown, turning pan once halfway through.

Allow to cool 5 minutes before serving with mustard for dipping.
Tags