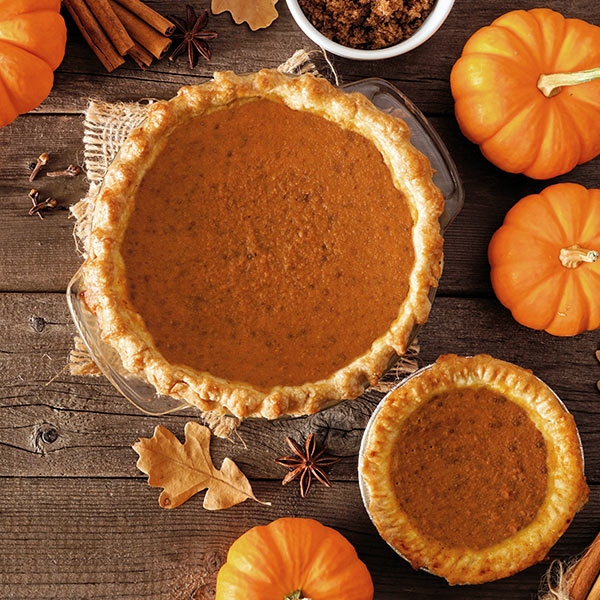 No holiday table is complete without pumkin pie. Make yours extra special by using fresh roasted pumpkin.
Ingredients
INGREDIENTS:
1 2 to 3 pound pie pumpkin, roasted and prepared yielding 2 cups (see instructions below)

1 cup evaporated milk

2 eggs beaten

1 teaspoon vanilla extract

3/4 cup brown sugar

1 teaspoon cinnamon ground

1/2 teaspoon ginger ground

1/4 teaspoon nutmeg or allspice

1/8 teaspoon cloves ground

1/2 teaspoon Kosher salt

1 9' frozen pie shell (or a gluten-free pie shell), prebaked for 10 minutes in a 350° oven.
Directions
To roast pumpkin: preheat oven to 375° F. Cut pumpkin in half, scoop out seeds and place pumpkin cut side down on a baking sheet. Roast for 45-70 minutes, or until flesh is soft. Remove from oven and let cool. Seeds can be soaked in water, drained and roasted on a rimmed baking sheet with a little olive oil and Kosher salt for a delicious snack!

Scoop flesh into a medium sized bowl and discard skin. Measure out 2 cups of pumpkin and set aside remainder to use in another recipe. Pumpkin can be prepared ahead of time, covered and refrigerated for up to 3 days.

Lower oven to 350° F. In a large mixing bowl, combine 2 cups of prepared pumpkin, milk, eggs and vanilla extract. Mix thoroughly with a whisk, mixer or immersion blender. Add brown sugar, spices and salt and blend until smooth. Pour filling into pre-baked pie shell. Place on a rimmed baking sheet in the middle of the oven.

Bake for 45 minutes, or until filling is set, and just slightly jiggly in the middle.

Let pie cool on a baking rack for an hour, then place in the refrigerator until time to serve.

Serve with a dollop of fresh whipped cream.