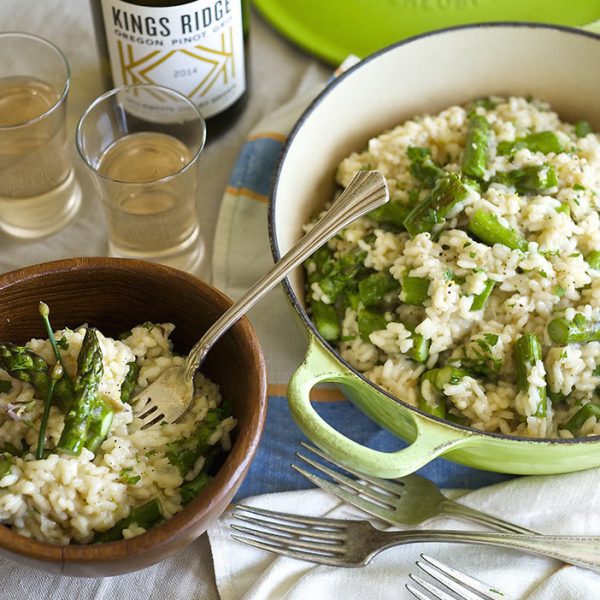 Ingredients
3/4 pound asparagus spears, washed, tough ends snapped, cut into 2-inch lengths

2 tablespoons olive oil, divided

sea salt

freshly ground pepper

6 cups chicken broth

1 tablespoon unsalted butter

1 1/2 cups onion, finely chopped

1 1/2 cups arborio rice

1/2 cup dry vermouth

1/2 cup finely grated "E Tartufo" sheep's milk cheese

1/4 cup finely grated Parmigiano Reggiano cheese

1 tablespoon fresh lemon juice

1/2 teaspoon finely grated lemon zest

freshly ground black pepper
Directions
Preheat oven to 400°. Toss the asparagus with 1 tablespoon of the oil, sprinkle with salt and pepper, and roast until just tender. Transfer to a large bowl and set aside.

Bring the broth to a simmer in a medium saucepan. Reduce heat to low. In a large saucepan, heat the remaining oil and the butter over medium heat. Add the onions and sauté until translucent, 5 minutes. Add the rice and cook, stirring constantly, for 1 minute. Add the vermouth and stir until liquid is absorbed, 1 minute.

Add 1 ladle of hot broth to the rice and bring to a simmer, stirring occasionally, until the broth is absorbed. Continue adding stock one ladleful at a time until almost all of the stock is used, about 15 minutes. (Keep a ladleful of broth in reserve.)

Add the roasted asparagus (reserving 8 asparagus tips for garnish), cheeses, lemon juice, lemon zest, and parsley and stir to combine. Season to taste with salt and pepper. (If you prefer it saucier, add the remaining broth now.)

Divide the risotto among 4 bowls and top each bowl with 2 of the asparagus spears and serve.
Tags