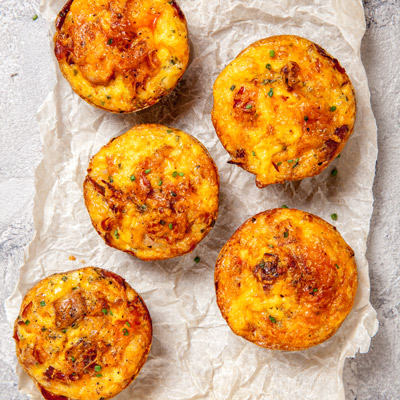 Ingredients
INGREDIENTS:
12 pasture raised eggs

1 1/2 cups sweet potatoes, ¼ to ½ inch cube cubed

1/2 cup onion diced

1 1/2 cups greens (spinach, kale, chard) chopped

to taste sea salt and pepper
Optional Ingredients
1/2 cup parmesan cheese grated
Directions
Preheat oven to 375°F. In a skillet, sauté sweet potatoes and onion in ghee or coconut oil until sweet potatoes are tender. Remove from heat and stir in greens.

In a large mixing bowl, whisk eggs, salt and pepper. Add sautéed veggies to eggs. Pour into lined or greased muffin pan. Bake for 20-25 minutes. Leftover muffins can be refrigerated and reheated.
Tags