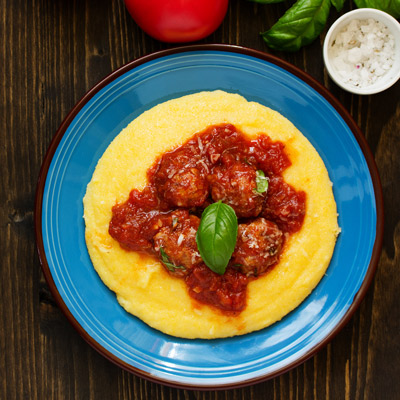 Ingredients
INGREDIENTS:
4 cups of liquid (any combination of broth, milk or water)

1 cup polenta

2 teaspoons kosher salt

3 tablespoons butter

Freshly ground pepper
Optional Ingredients
1/2 cup grated parmesan cheese

1/4 cup chopped fresh herbs
MARINARA AND MEATBALLS:
1 tablespoon extra-virgin olive oil

1 package of Italian meatballs

1 jar marinara sauce (we like the pomodoro for this)
Directions
Preheat oven to 350°F. Add liquid to an 8"x8" baking dish. Stir in polenta and salt. Place in preheated oven and bake 40 minutes. Remove from oven and stir in butter. Bake for 15 minutes. Remove from oven and stir in optional ingredients if using before serving.

While polenta is baking, cook meatballs. In a medium saucepan over medium heat, brown meatballs in olive oil, turning a few times, about 10 minutes. Add sauce, reduce heat to medium-low and cook until meatballs are fully cooked, about 8-12 more minutes.

Top polenta with marinara and meatballs and serve.
Tags