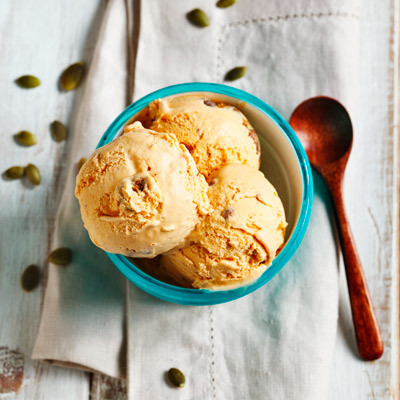 Ingredients
1 1/2 cups coconut cream

1 1/2 cups dairy-free milk

4 pitted dates

1 can pumpkin puree

8 pasture-raised egg yolks

2/3 cup coconut sugar

4 teaspoons maple syrup

2 teaspoons vanilla extract

2 teaspoons pumpkin pie spice

pinch sea salt
Directions
Put your ice cream spinner into the freezer the night before you plan on making your ice cream.

Heat milks, dates, and pumpkin together over medium-low heat. Using an immersion blender, puree dates into the milks.

In a separate bowl combine the remaining ingredients, and whisk until a thick ribbon stage. Slowly add warmed milk to egg yolks while whisking to temper the yolk mixture. Once warmed, add yolk mixture back into the pot with the rest of the milk, and stir slowly with a wooden spoon till mixture starts to thicken.

Strain liquid through a fine mesh strainer to remove any possible solids, and allow to cool.

Set up your ice cream maker and add ice cream base to maker and follow manufacturer's directions. Once at soft serve stage pour ice cream out into a freezable storage container and allow to freeze solid.
Tags