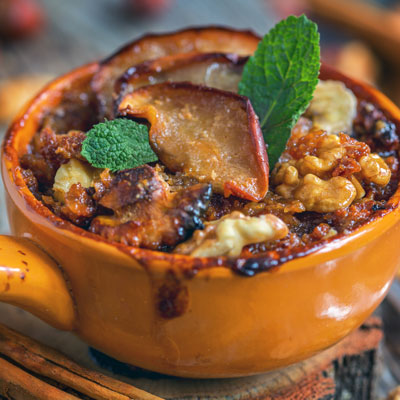 Ingredients
1 pound Granny Smith apples (3 to 4) peeled

1 1/2 cups rolled oats

1/2 cup walnuts chopped

1/3 + 1 tablespoon light brown sugar, divided, plus more for serving

1/4 teaspoon kosher salt

1 teaspoon cinnamon

1 large egg

1 3/4 cups milk whole

2 tablespoons unsalted butter melted
Directions
Adjust oven rack to middle position and preheat oven to 350°F. Lightly grease a shallow 2-quart baking dish. Scatter apples into dish and cover with foil. Bake until apples are just beginning to soften, about 20 minutes.

Remove foil and let cool slightly, about 10 minutes. Scatter oats and walnuts into dish. Whisk 1/3 cup brown sugar, salt, cinnamon, egg, milk, and melted butter in medium bowl to combine. Pour into baking dish. Using a spoon, gently press and stir oats into milk mixture to moisten and distribute apples evenly.

Sprinkle remaining tablespoon of brown sugar over top of oatmeal, and bake until center is just set, about 30 minutes. Serve warm.
Tags