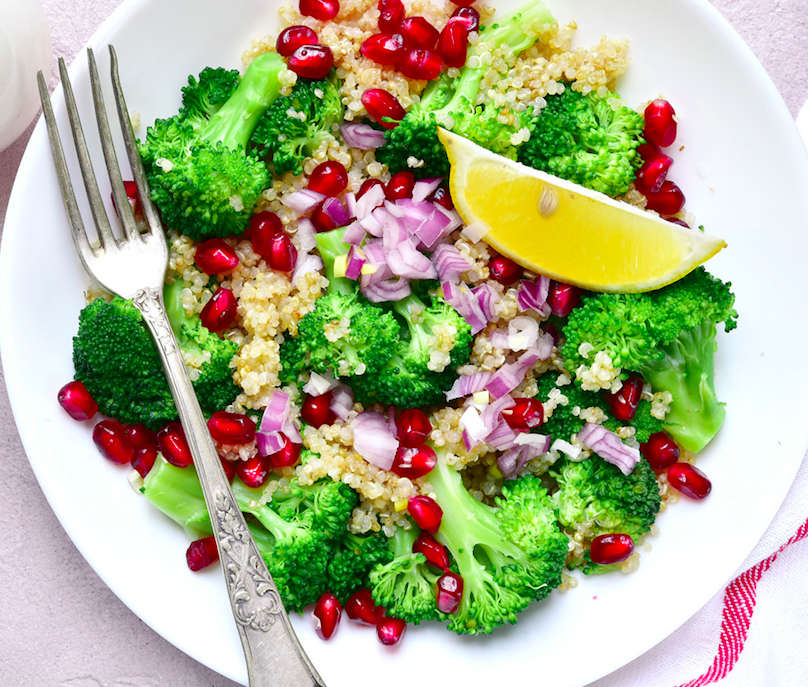 Ingredients
1 cup dry quinoa

1 pound broccoli, trimmed and cut into bite-sized florets

3 cloves garlic crushed

4 tablespoons red wine vinegar

1/2 small red onion finely diced

1 cup pomegranate seeds

1/4 teaspoon cayenne pepper

1/2 cup + 1 tablespoon olive oil

3/4 teaspoon salt

1/2 teaspoon ground black pepper

3/4 cup pepitas
Directions
Rinse quinoa in a fine mesh strainer under cool water for about 2 minutes. Combine quinoa, 2 cups water, and ½ teaspoon salt in a saucepan over medium-high heat. Bring to a rolling boil. Reduce heat to low and cook, covered, for about 15 minutes. Remove pot from heat and let stand, covered, for an additional 5 minutes. Set aside and allow to cool.

Steam broccoli florets until tender, set aside.

In a small bowl whisk together garlic, vinegar, cayenne, ½ cup olive oil, salt and pepper. Set aside.

Heat the remaining 1 tablespoon of olive oil in a small skillet over medium heat. Add the pepitas and fry, stirring frequently, until golden brown, about 2 to 3 minutes. Transfer pepitas to a paper towel lined plate and season with salt.

Toss together broccoli, quinoa, pomegranate seeds, and pepitas in a large serving bowl with the oil and vinegar mixture. Season with more salt and pepper, to taste.
Tags