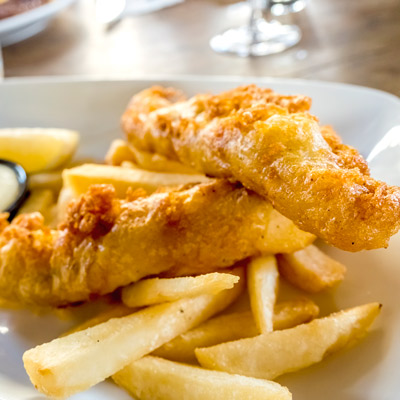 Ingredients
3 large russet potatoes

2 pounds halibut or cod fillets (no skin)

1 1/4 cups all-purpose flour, divided

1/4 cup cornstarch

2 teaspoons salt

2 teaspoons paprika

1 12-ounce beer

oil (for frying)
Directions
Peel potatoes and cut into French fries; place in a bowl of cool water and set aside.

In a medium bowl, sift together 1 cup flour, salt and paprika. Whisk in beer until well blended; set aside.

Heat oil to 375º F. While oil is heating; drain fries and pat dry with a paper towel. When oil is hot, cook fries in 2 to 3 small batches, draining on paper towels. Keep fries warm while cooking fish.

To cook fish, cut fillets into 2" wide strips and remove any pin bones. In a small bowl mix 1/4 cup flour and cornstarch. Lightly coat fish in dry flour mixture; shake off excess. Dip fish in beer batter then fry 2-3 fillets at a time until golden brown and up to temperature. Drain on paper towels.

Serve with fries and your favorite tartar sauce. Serves 4-6.
Tags