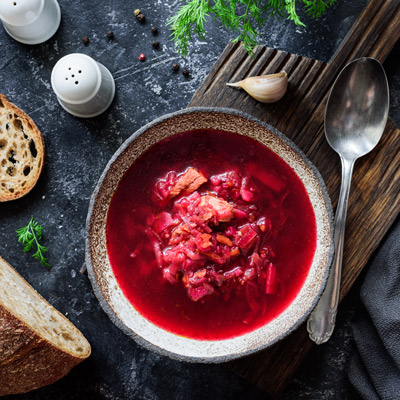 Ingredients
FOR MAIN DISH:
1 1/2 pounds beets

2 beef short ribs

olive oil

1 medium onion diced

2 stalks celery diced

2 carrots peeled

2 sprigs parsley

2 teaspoons caraway seeds

1 teaspoon peppercorns

8 cups beef stock or water

1/2 pound cabbage, thinly shredded

apple cider vinegar

salt and pepper
FOR GARNISH:
to taste sour cream

to taste fresh dill
Directions
Place washed beets in a baking pan and drizzle with salt and pepper and a few tablespoons of olive oil. Cover with foil and roast in a 375' oven for about 1 hour or until tender when pierced with a fork. Remove from oven and let cool. Meanwhile, in a large stock pot, salt ribs and brown on all sides. Add onions and sauté about 10 minutes or until translucent. Add celery, carrots, parsley, caraway seeds, peppercorns and stock and bring to a gentle boil.

Add the cabbage and lower heat. Simmer until the meat is tender and falling apart. This may take 2 to 3 hours.

When beets are cool enough to handle, remove skins, dice and add all roasting juices and beets to soup.

When the meat is fully-cooked and tender, remove the bones and fat and shred meat back into soup.

Season with salt pepper and vinegar and serve with sour cream and fresh chopped dill as a garnish.
Tags