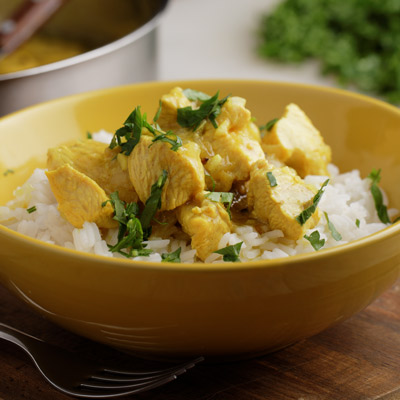 Ingredients
1 pound boneless skinless chicken breasts, cut into bite-size pieces
1 tablespoon extra virgin olive oil

1 large onion chopped

1 tablespoon curry powder

1 (14 oz) can diced tomatoes

1/3 cup apricot jam

1/2 teaspoon salt

1/2 teaspoon pepper

1 tablespoon white vinegar

4 apricots, pitted and diced
SERVE OVER
Directions
In a large skillet, heat olive oil over medium heat. Add chicken, onions, and curry, cooking and stirring until the chicken is no longer pink.

Mix in tomatoes, apricot jam, salt, and pepper. Bring to a boil. Then, reduce heat and let it simmer for 10 minutes.

Stir in vinegar and diced apricots, cooking until apricots are heated.

Pour over hot cooked rice and garnish with cilantro, green onions, and plain yogurt as desired.
Tags