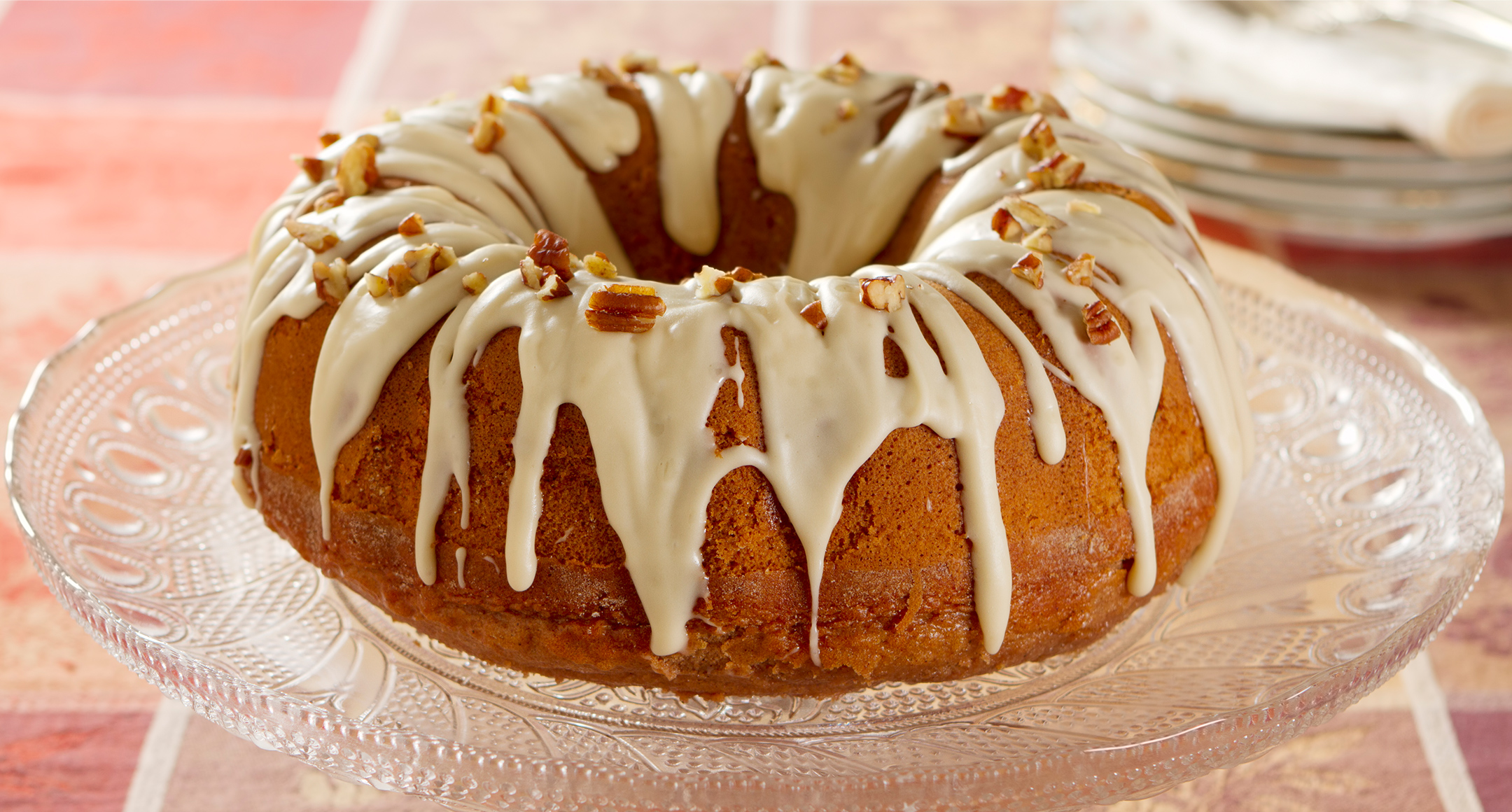 Serve with ice cream, if desired.
Serving Size

12

Cook Time

1 hour 30 minutes

Total Time

3 hours
Ingredients
Bundt Cake:
1 pound apples (we prefer Honeycrisp or Pink Lady), rinsed

1 cup pecans, toasted and chopped

1 tablespoon cinnamon

1/4 cup sugar

2 3/4 cups all-purpose flour, sifted

1 tablespoon baking powder

1 teaspoon salt

1/4 cup orange juice

2 cups sugar

2 1/2 teaspoons vanilla

4 eggs

1 cup vegetable oil
Glaze:
1 cup powdered sugar

2 tablespoons honey

2 tablespoons whole milk
Directions
Preheat oven to 350°F. Grease and lightly flour a 10" bundt pan. Peel, core, and dice apples. Toss with pecans, cinnamon, and ¼ cup of sugar. Set aside.

Stir together flour, baking powder and salt in a large mixing bowl. In a separate bowl, whisk together oil, orange juice, sugar and vanilla. Mix wet ingredients into the dry ones, then add eggs, one at a time. Scrape down the bowl to ensure all ingredients are incorporated.

Pour half of batter into prepared pan. Spread half of apples over it. Pour the remaining batter over the apples and arrange the remaining apples on top. Bake for about 1½ hours, or until a tester comes out clean. Cool in pan on rack 15 minutes, then invert onto rack to cool completely in the pan, about 1 hour, and then turn it out onto a plate.

While the cake cools, add all the glaze ingredients to a small bowl and whisk together until smooth. Drizzle glaze over the top of cake, slice, add ice cream, and serve.

Flour Mixture: In a bowl separate from your mixing bowl, add the flour, cinnamon, salt and baking soda. Whisk and set aside.