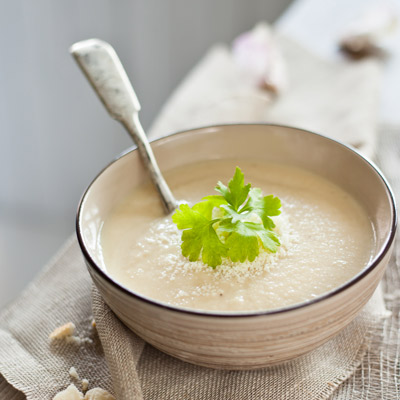 Ingredients
FOR SOUP:
2 tablespoons extra-virgin olive oil

1 medium onion peeled

1 medium leek, white part only thinly sliced

2 large apples peeled

10 ounces celeriac peeled

3 bay leaves

2 sprigs thyme

1 pinch nutmeg freshly grated

salt and freshly ground white pepper

3/4 pound peeled fresh chestnuts (from about 1 1/4 pounds chestnuts in the shell)

2 quarts chicken stock or store-bought chicken broth

1/2 cup heavy cream
FOR CRISPY SHALLOTS:
2 cups canola oil

2 cups shallots (about 4 large shallots thinly sliced
Directions
Begin by making your crispy shallot topping. In a small saucepan over medium-high heat, heat oil until it registers 275°F on a deep-frying thermometer. Add shallots and cook, stirring, until light golden brown, about 8 minutes. Using a slotted spoon, transfer shallots to a paper-towel-lined plate to drain. Shallots will keep in an airtight container at room temperature for 1 day.

Heat the oil in a stockpot or large casserole over medium heat. Add the onion, leek, apples, celery root, bay leaves, thyme, nutmeg and salt and pepper to taste and cook, stirring occasionally, for about 10 minutes, or until the onions and leeks are soft but not browned. Add the chestnuts and chicken stock and bring to the boil, then lower the heat to a simmer and cook, skimming the surface regularly, for 35-40 minutes, or until the chestnuts can be mashed easily with a fork. Add the heavy cream and simmer for 5-10 minutes more, then remove from the heat and discard the bay leaves and thyme.

Puree the soup until smooth using an immersion blender, then pass it through a fine-mesh strainer. You should have about 2 quarts soup at the point. If you have more, or if you think the soup is too thin -- it should have the consistency of a light cream soup - simmer it over medium heat until slightly thickened. Taste and, adjust the seasoning if necessary. Serve soup warm, top with shallots just before serving.
Tags