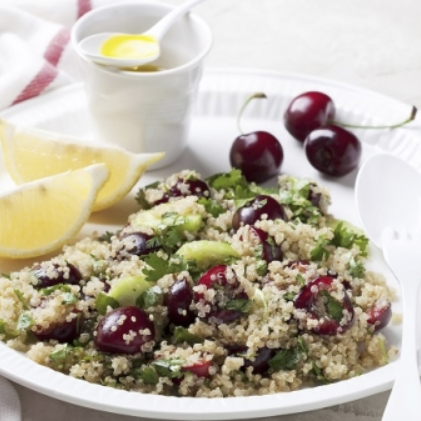 Ingredients
INGREDIENTS:
1 cup quinoa, rinsed

course ground salt and pepper

3 tablespoons walnut oil

3 tablespoons lemon juice

1 tablespoon shallot minced

1/2 pound cherries halved

1/2 cup coarsley chopped walnuts, toasted

1/2 cup fresh herbs, such as tarragon, parlsey and/ or chives chopped
Optional Ingredients
Directions
In a medium saucepan with a lid, bring 2 cups of water to a boil. Stir in quinoa and 1/4 tsp salt. Boil and stir occasionally until quinoa starts to sprout. Test for doneness, it will be tender. Remove from heat and drain in a sieve. Cool to room temperature.

Meanwhile, in a medium bowl, whisk together oil, lemon juice, and shallot; season with salt and pepper. Pour dressing on warm quinoa. Add cherries, herbs and walnuts and toss to combine. Season with salt and pepper. Optional: Crumbled feta cheese. Serve.
Tags