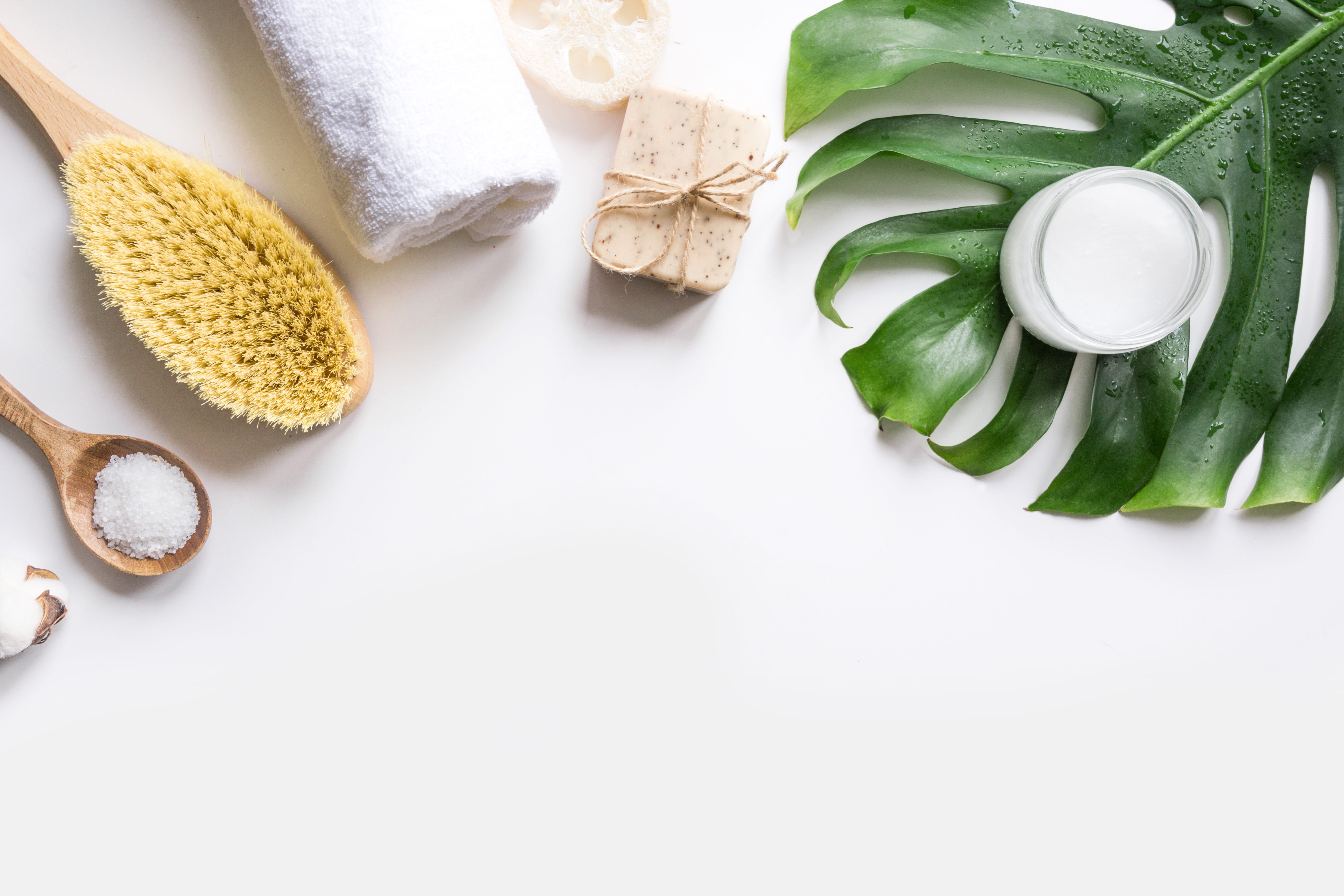 Routine or ritual? Most of us have an established body care process, even if we don't realize it!
And since we're already spending time tending to our heads, shoulders, knees, and toes, why not find small, simple ways to elevate the experience?
Our team of Wellness Experts share three easy steps that can help you turn your routine body care into an act of self-care – here's how:
See the Opportunity
When it's time to do any type of personal hygiene task, don't forget that this is an opportunity to focus on you. From mindfully dry brushing your skin to flossing your teeth, you can create moments of calm and relaxation that would otherwise be rushed through.
Choose Body & Earth-Friendly Ingredients
Everything ends up somewhere… and that's true of the products we put onto our bodies! Lotions, oils, creams, and makeup can be absorbed by our skin. And, when we dispose of products, they can ultimately end up being absorbed into our water supply. Choosing natural, nourishing ingredients is good for our individual health and for our planet.
Follow Your Senses
For thousands of years, people have enjoyed the physical and emotional benefits of aromatherapy, and more now than before, aromatherapy is a huge element to skin and self-care products. It's no secret that lavender oil can be very calming and relaxing, while peppermint or citrus are uplifting and invigorating. If a certain scent makes you feel good, follow your nose and bring more of that scent into your self-care routine.
WONDERING WHAT PRODUCTS ARE BEST?
Here are a few of our favorites, for Every Body!
Bath Care: Great for the whole family! Alaffia body wash and bubble bath are made with ethically traded ingredients, sulfate-free and clean. Their Everyday Shea Body Wash is handcrafted with neem extract, lavender oil, and unrefined shea butter from cooperatives in West Africa to gently cleanse away pollutants while nourishing and protecting your skin.
Body Care: Does your deodorant give you 100% performance with 0% toxins? Hume Supernatural deodorant is a highly effective deodorant that not only smells amazing but also works. Born from the desert, where the natural flora has rich chemistry that sustains, nourishes, and protects life. Hume was drawn to these plants for their unique ability to work together and adapt in the face of diversity—something our bodies need to do throughout the day. So, they created smarter formulas that combine the natural intelligence of these plants with the insights of modern technology.
Facial Care: Upgrade your facial care ritual by swapping your regular face wash to cleansing milk for a nourishing experience. Evan Healy has created a gentle cleansing formula to nurture and purify your unique skin condition. The aromas and velvety texture of their cleansers turn the action of cleansing into a therapeutic ritual. Begin and end your day with a gentle, rhythmic facial massage, immersed in the fragrant and healing embrace of nature.
Hair Care: Want hair care that is 100% Vegan and 0% Fuss? Then Acure Hair Care is just right for you. Acure Shampoos and conditioners provide lasting moisture leaving hair soft, manageable, and ready to rock. They are completely free of parabens, sulfates, and mineral oils and of course, they are cruelty-free.
Oral Care: Have you tried toothpaste tablets? Maybe it's time to switch to natural, sustainable & conscientious toothpaste with low-impact, zero-waste oral care like Georganics. These mouthwash tablets are made from entirely natural and non-toxic ingredients. The Fluoride, Glycerin, and SLS-free formula helps to restore a healthy pH balance to your mouth, maintain good oral health and freshen your breath. Flavored with organic Peppermint oil, these eco-friendly tablets, that you add to water, are ideal for everyday use and travel.
IT'S EASY TO MAKE SMALL CHOICES THAT ADD UP TO A BIG DIFFERENCE.
As we all set the intention and live a happy, healthy life, we inspire others and give them permission to do the same.
At Lazy Acres, we believe in Living Healthy, because it improves our lives on a micro level and also helps us begin to contribute to the improvement of our environment, our communities, and our world in ways we can't always imagine.
Visit your local Lazy Acres to discover solutions to Live Healthy and make 2022 YOUR year to Live Well.