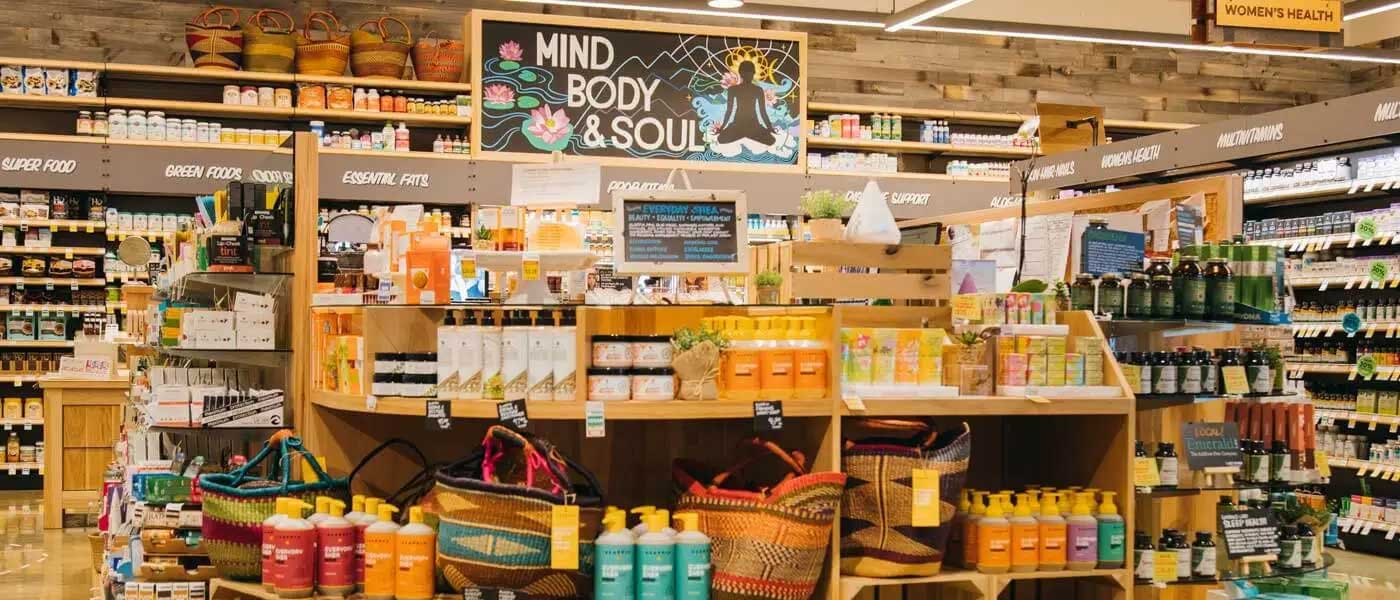 Departments
Natural Living
At Lazy Acres, we live by our mantra: "health of the mind, body and soul is the key to optimal wellness." Our Natural Living Team Members whole-heartedly share that philosophy and are educated in all aspects of the department, including vitamins, skin care, essential oils and herbal supplements. We offer an unmatched selection of locally sourced beauty and body care items, organic and vegan supplements, as well as products that boost mindfulness and mental clarity. We're committed to keeping our Natural Living department 100% natural, making sure to offer a wide array of clean beauty products, fair-traded goods and products made from regenerative farming practices. We believe that the first step to longevity is taking excellent care of your body and your mind–at Lazy Acres, our Team Members are here to guide you along your path to wellness.
THE PASSION BEHIND OUR PRODUCT OFFERINGS: AN INTERVIEW WITH DIRECTOR OF NATURAL LIVING, SILVIA NAVAS:
Tell us about your role at Lazy Acres and how you got to be where you are today.
"As Director of Natural Living and Wellness, my job is to lead and support my team in finding and offering products that have a holistic approach to health and wellness. We understand there's a wide spectrum of reasons why people come to us. It is our job to seek, evaluate and offer an individualized plan for our customers to improve and maintain their wellness. I have always been drawn to wellness and having the company's support has helped me to grow to where I am now. My career began in the Juice Bar at Lazy Acres in Santa Barbara as a Juice Clerk and then the Assistant Manager. During this time, I was drawn to our Natural Living Department and was already very passionate about the world of wellness–however, I was a bit intimidated by it! Two years later, I finally expressed my interest in the department to Store Leadership. I spent the next few years learning about the products and seeing first-hand the positive differences I was able to make in my customer's lives. Eventually, I was promoted to Manager of our Natural Living Team. Fast forward to now, where I am the Director of Natural Living and Wellness for Lazy Acres!"
What makes Lazy Acres' Natural Living Departments unique?
"Our self passion for all things wellness. From that point of passion, our team members are able to provide a great level of service and educate our customers."
How do you want customers to feel when they leave your department?
"Taken care of. That they got what they came for–their need was met. And to be seen."
If you were stuck on a desert island and could only take 3 products from Lazy Acres, what would they be?
"Sunscreen, a jar of coconut oil because I can eat it, (it's multipurpose!), and bags of spicy beef jerky."
Any secrets you can share on how to minimize stress and prioritize healthy habits?
"I typically write things down so I know the next steps–this helps with grounding. A Holy Basil supplement and deep breaths bring calm and peacefulness as well."
Silvia Navas, Director of Natural Living