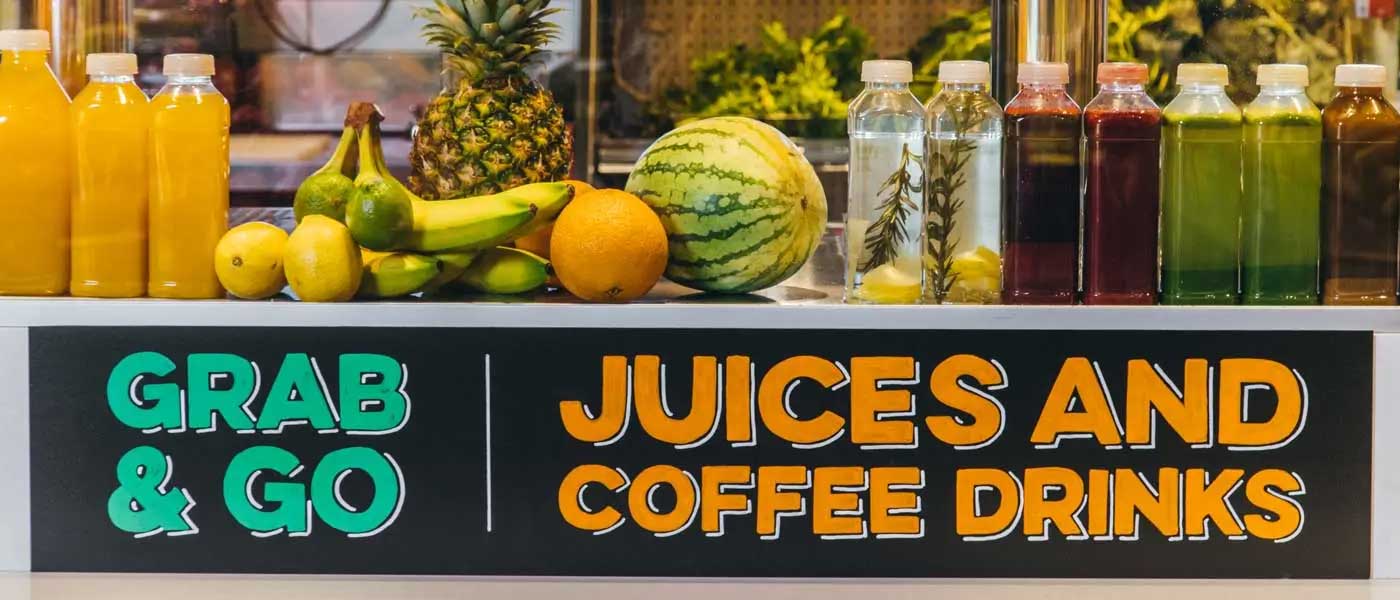 Departments
Juice & Coffee Bar
Our freshly-made juices and smoothies are made from organic fruits and vegetables with functionality in mind. From immunity boosters to endurance aids, to detoxifying drinks and more–we've got something for every unique health goal. Check out our robust and locally roasted coffee brews, with specialty offerings like superfood lattes and adaptogenic drinks for mental clarity. Choose from oat, hemp, almond or dairy milks to top off your morning brew or afternoon tea. Our passionate and friendly neighborhood baristas are dedicated to crafting the optimal beverage for you. Between cold brews, chai lattes and daily-squeezed organic OJ, our juice and coffee bars are sure to keep you energized and enlightened.
THE PASSION BEHIND OUR PRODUCT OFFERINGS: AN INTERVIEW WITH JUICE & COFFEE BAR CATEGORY MANAGER, JONATHAN PACHECO:
What juice or smoothie do you reach for when you need an immunity boost?
"The 20/20–anything with lemon, carrots and orange is my go-to! All three of these fruits/vegetables contain high levels of vitamins, minerals and antioxidants. Oranges and lemons are rich in vitamin C which protects against immune deficiencies. Carrots, on the other hand, are rich in vitamin A that supports healthy immune functions."
What makes Lazy Acres' Juice & Coffee bars unique?
"We use organic juice and coffee offerings and we don't use any artificial ingredients. We also offer natural adaptogen add-ins, like Ashwaganda and Lion's Mane mushrooms, to help boost mental health and clarity. We believe that each day should start with the pursuit of good health–for this reason, we're dedicated to showcasing the power of nature to support mental clarity, stress relief and emotional well-being."
How do you want customers to feel when they leave your department?
"Happy—in the simplest sense of the word. We strive to ensure you feel good about your experience with us. Our Juice and Coffee Bars are a space where you nourish your spirit and your body at the same time."
If you were stuck on a desert island and could only take 3 products from Lazy Acres, what would they be?
"Matches, rib eye, and an endless supply of 20/20 juice."
Jonathan Pacheco, Juice & Coffee Bar Category Manager